Come enjoy the comfort of late summer and early autumn weather at Moe's Cantina's rooftop in Wrigleyville, or at the downtown River North location! Late summer and early autumn are the perfect time to enjoy rooftops in Chicago, and local diners and party goers who are in-the-know, look to the best rooftop spots to capture that special mood.
Moe's Cantina is a favorite for the restaurant's stylish, yet friendly, casual, and spirited atmosphere, perfect for enjoying the late summer breeze with excellent food and libations and comfortable seating on the roof.
Moe's Cantina Wrigleyville, located at 3518 N. Clark St. in Chicago's Wrigleyville neighborhood (773-248-0002), is your ultimate destination for an authentic taste of Mexican food and drink in Chicago. The spacious Mexican restaurant and bar offers the perfect blend of classic Windy City charm and modern dining and nightlife which carries through to its beautiful rooftop lounge. Moe's Cantina delights guests with shareable small plates, signature tacos and cocktails and a uniquely designed space that makes for a warm, inviting atmosphere that is perfect for a meal with family, or a night out with friends.
Rooftop guests enjoy the same extensive and delicious menu as indoor diners. Among the favorites are: Nachos, made with house-made tortilla chips, cheese blend, black beans, salsa verde, sour cream, topped with guacamole, queso fresco, pickled onions and jalapeños, $14 (add Chicken $6, Tinga $6, Chorizo $6, Steak $7); Burrito Asada, made with asada, black beans, rice, lettuce, pico gallo, cheese and crema, $14; Chilaquiles, choice of Verdes (green mild salsa) or Rojos (red medium salsa), with pico de gallo, queso fresco, chihuahua cheese, sour cream, topped with one egg your way, $14; and the Fish Taco, made with fried tilapia, cabbage slaw, macha salsa, chipotle mayo; $6.
Besides the Wrigleyville location, there is a second and very impressive location of Moe's Cantina on Kinzie Street in the River North neighborhood (155 W Kinzie St, Chicago, IL 60654). It is a great choice for lunch and dinner and the drink and food menu has a fantastic variety to offer hungry diners. The interiors are breathtaking with high ceilings, hanging chandeliers and beautifully painted murals and wall art surround you as you enjoy your meal.
Not only are the item menus at Moe's Cantina lovely to look at, they are also delicious. You can order lovely drinks such as the Hibiscus Paloma (Tradicional Reposado Tequila, Lime, Grapefruit, Squirt, Hibiscus), or the Traditional Lime Margarita (Patron Silver, Cointreau, Sour Mix).
Moe's in River North offers a mouthwatering array of different menu items. Even the most sinful dishes are elegantly plated, with close attention to detail. The dinner offers delectable small plates like the succulent sushi grade quality Tuna Tostadas (Three Tostadas, Yellowfin Tuna, Spicy Aioli, Avocado, Salsa Macha), Grilled Octopus (Confined Octopus, Marble potato, Salsa Verde, Salsa Macha, Creamy Bacon Vinaigrette).
You will also enjoy some of the most wonderful variety of salsas with warm, house made tortilla chips. The salsas you can choose from are the Red Salsa, Green Salsa and Mango Salsa. The Fajitas Con Camaron (Shrimp, Onion, Green Bell Pepper, Tomato, Side of Sour Cream & Corn Tortillas) is also highly worthy of culinary praise.
Some impressive, yet gorgeous and tasteful entrees that you can discover at Moe's are the savory Quesabirria Tacos (Order of 3 Slow Cooked Shredded Beef Quesadillas with a Side of Consome) or the flavorful Tacos de Mushroom al Pastor (Mushrooms in Al Pastor Salsa, Pineapple, Cilantro, Onion).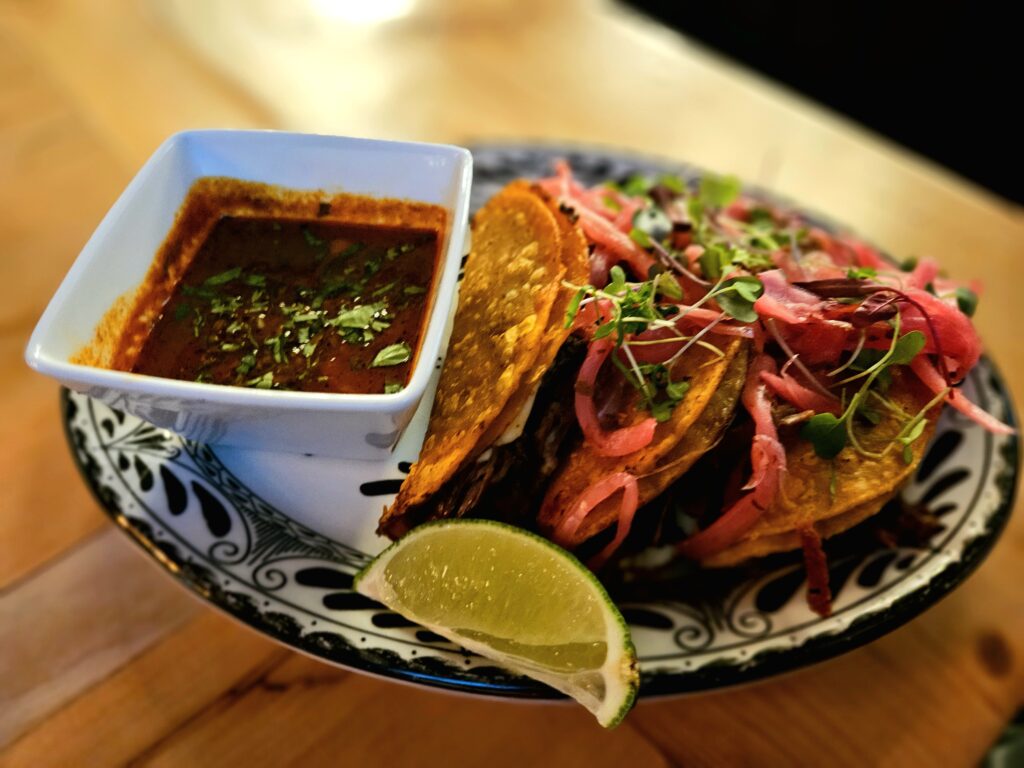 The service at Moe's is also top notch. Welcoming and knowledgeable servers guarantee you will have an amazing dining experience. It is always refreshing when your table's server is able to recommend menu items, especially his or her personal favorites. For me, personally, this seals the deal for an authentic dining experience. Come dine at Moe's Cantina and enjoy all this fantastic restaurant had to offer.
Photos: Jennifer Lunz unless otherwise noted.
To make a reservation or for more information, please visit the Moe's Cantina website or call 773-825-5233.