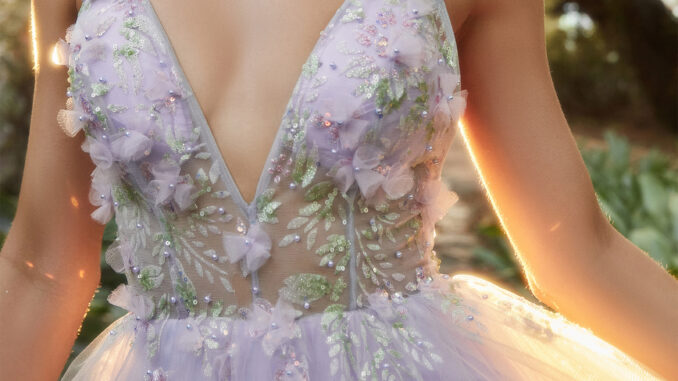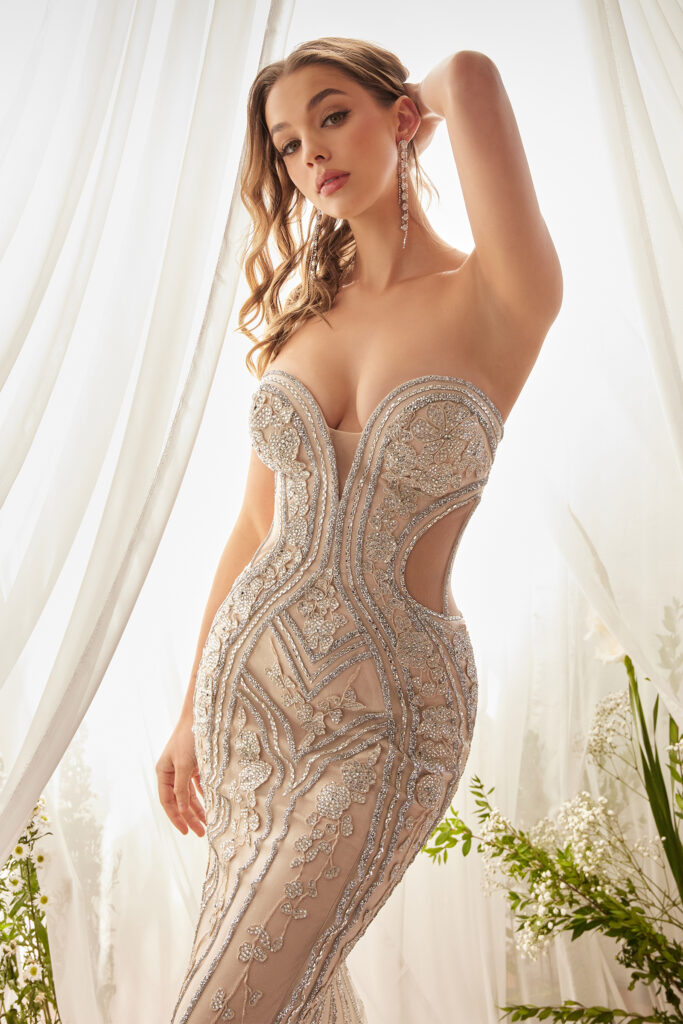 Welcome to the enchanting world of Andrea & Leo, where elegance meets innovation and style converges with sophistication. Hopeless romantics need to look no further for the perfect brand with which to demonstrate their personality. As a premier dress company, Andrea & Leo is a beacon of timeless fashion, capturing the essence of modern glamour and classic allure. Renowned for their exquisite craftsmanship and attention to detail, each creation in their collections tells a story of grace and refinement. Whether you're seeking the perfect gown for a special occasion or a statement piece that transcends trends, Andrea & Leo invites you to explore a realm where fashion becomes an art form, and every dress is a masterpiece waiting to be worn. Elevate your style, embrace your individuality, and step into a realm of unparalleled beauty with Andrea & Leo.
When and how did it all begin?
Andrea & Leo began seven years ago, from the desire to make the magic of couture accessible to every woman's daily life. Previously, I was working in high-end luxury fashion. It was filled with glamour, glitz, and romance, but it catered only to an exclusive few who could afford such indulgences. While I was enamored by the beauty of it all, I also felt alienated from this exclusive culture. It saddened me to know that the meticulously crafted dresses, which the team and I devoted countless hours to, might never be adorned by the incredible everyday women I knew. Andrea & Leo was born out of a desire to bridge this gap. We aspired to bring the intricacies and romance of couture to every woman.
Please tell us the story behind the name of your company.
Andrea & Leo represents two types of women archetypes: Andrea the romantic and Leo the sensualist. The brand finds the balance between the two.
What inspired you to become a fashion designer?
From a young age, I was captivated by the transformative power of fashion. I would watch with fascination as grown women applied lipstick or slipped into a dress, and it was as if they were donning a whole new persona, effortlessly adopting an alter ego with their attire. The idea that I could create something that not only adorned but also empowered someone was truly enthralling. This fascination led me to pivot towards a formal education in fashion. I enrolled at Parsons, where I discovered my passion for designing.
Why the love of dresses?
Designing gowns offers a unique freedom that's distinct from creating everyday items like T-shirts. With dresses, I can embrace the fantastical and the extraordinary. It's that element of magic and dreaminess in a gown that captivates me, allowing me to design without any constraints.
Could you describe your aesthetic?
I would describe my aesthetic as "dream-like." It embodies sensuality, with a translucent and dimensional approach to colors and fabrics. The designs evoke memories of childhood fantasies — those whimsical dreams one might have had as a young girl. There's an underlying vulnerability in the aesthetic, but it's purposeful, adding depth and character.
Could you tell us about your favorite collection this season?
My favorite collection has to be "The Depth of the Sky" from 2020. It featured meticulously handcrafted beadings with a constellation motif, thoughtfully incorporated into classic silhouettes. Layers of translucent fabrics in varying colors were used to evoke a sense of depth, reminiscent of gazing up at the sky during different times of the day. We were fortunate to collaborate with incredibly talented creatives who flawlessly captured the essence of the collection on camera. To this day, that photoshoot remains our most recognized.
Could you describe the design process from start to finish?
The design journey begins with an exploration of fabrics and colors. I immerse myself in different combinations to elicit specific emotions relevant to the moment. Are we aiming to evoke nostalgia? Joy? Reflection? With the mood defined, I delve into sketching silhouettes and intricate details. Unlike some designers who might have a fixed vision from the outset, my approach is more organic. I let the designs reveal themselves to me, allowing the collection to evolve organically throughout the design phase. The final highlight of the design process, for me, is the photoshoot. This is when each garment is given a distinct narrative, weaving all the individual design elements into a cohesive collection.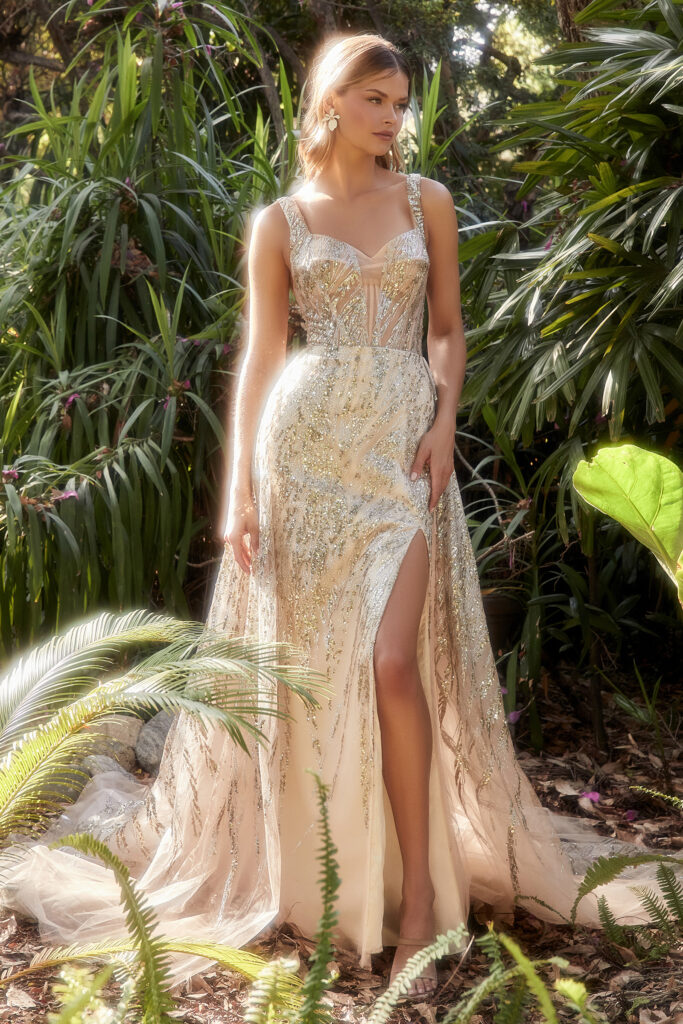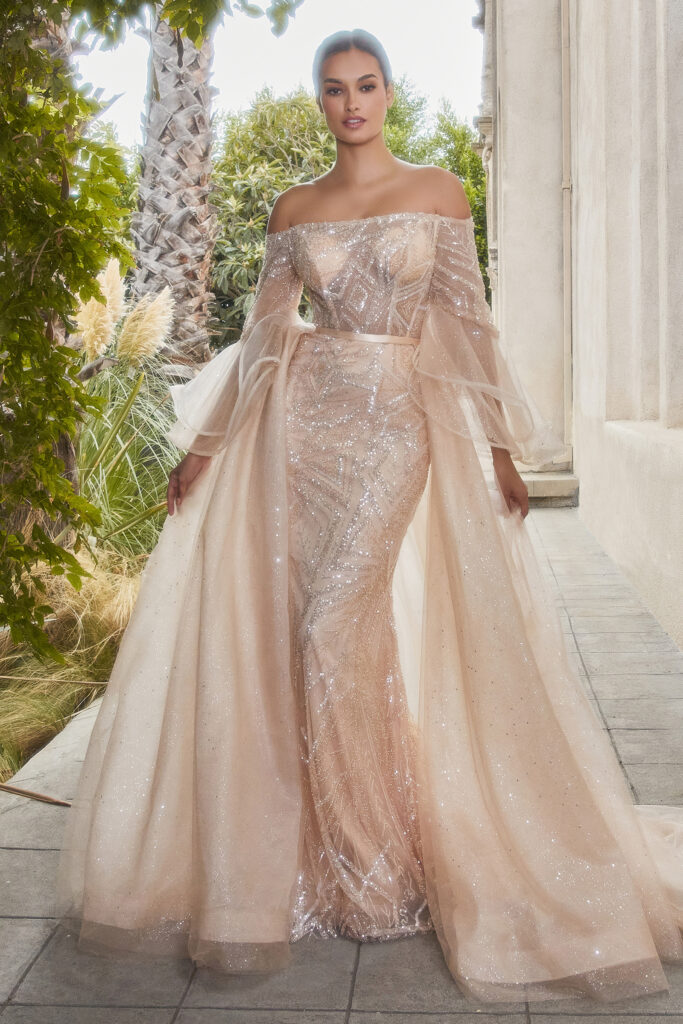 How do you select the fabrics and colors of dresses in your collection?
I have a tendency for layering sheer fabrics and colors, aiming to evoke a watercolor-like effect that subtly shifts as the wearer moves. Despite having multiple layers, often 5-6 in a skirt, I strive for the gown to retain an airy feel. The interplay of light with the fabric creates a dynamic, revealing different color notes as it passes through each layer.
Tell us more about the fabrics…what are your favorite or most used materials?
Tulle holds a special place in my heart. At first glance, it may seem like a straightforward fabric, but its beauty lies in its versatility. Depending on how it is manipulated — whether layered, pleated, draped, or combined with other techniques — tulle can span a vast spectrum of aesthetics. Its adaptability and transformative nature make it one of my most cherished and frequently used materials.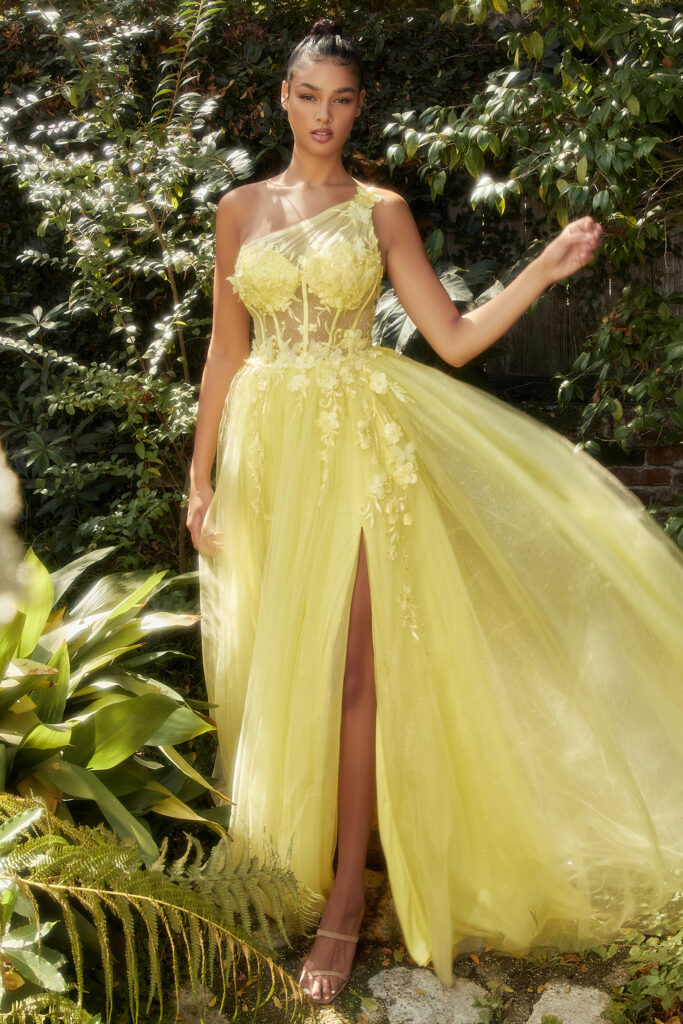 What is the manufacturing process like – do you work in a studio or contract out to a manufacturer?
We have wonderful manufacturers with skilled artisans who produce our gowns.
Describe who you are designing for; what does your target consumer look like?
I design for the dreamers and the hopeless romantics. The women who gravitate towards Andrea & Leo for their special occasions are those who cherish the art of storytelling and resonate with the fantastical essence the brand exudes. They are imaginative souls, curating their own unique narratives and exuding creativity. Often found with a book in hand, they love to daydream about beautiful things.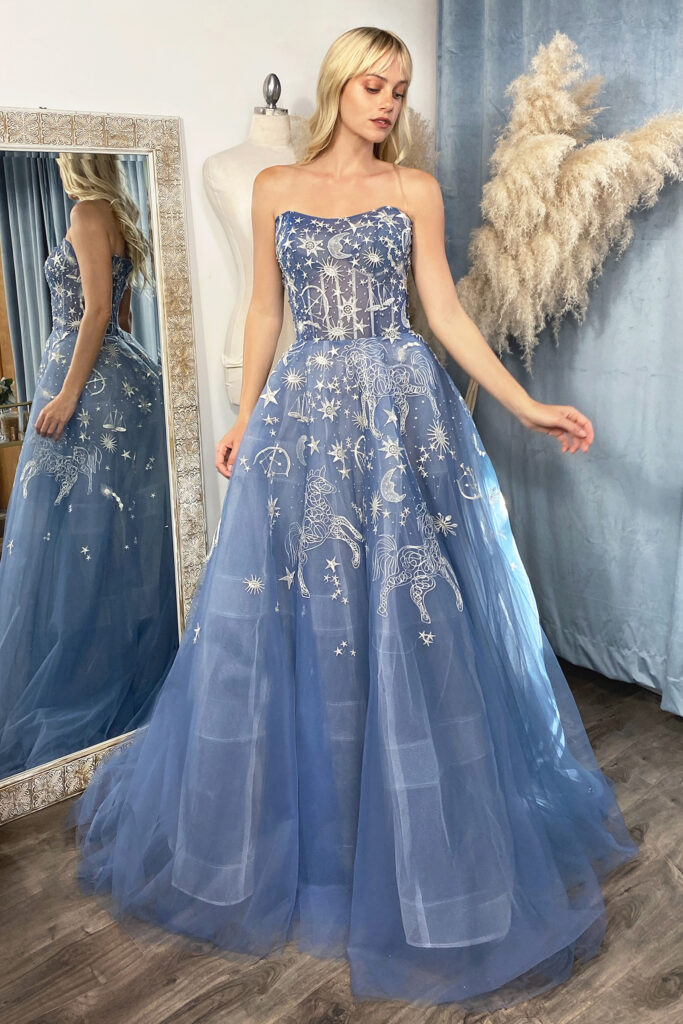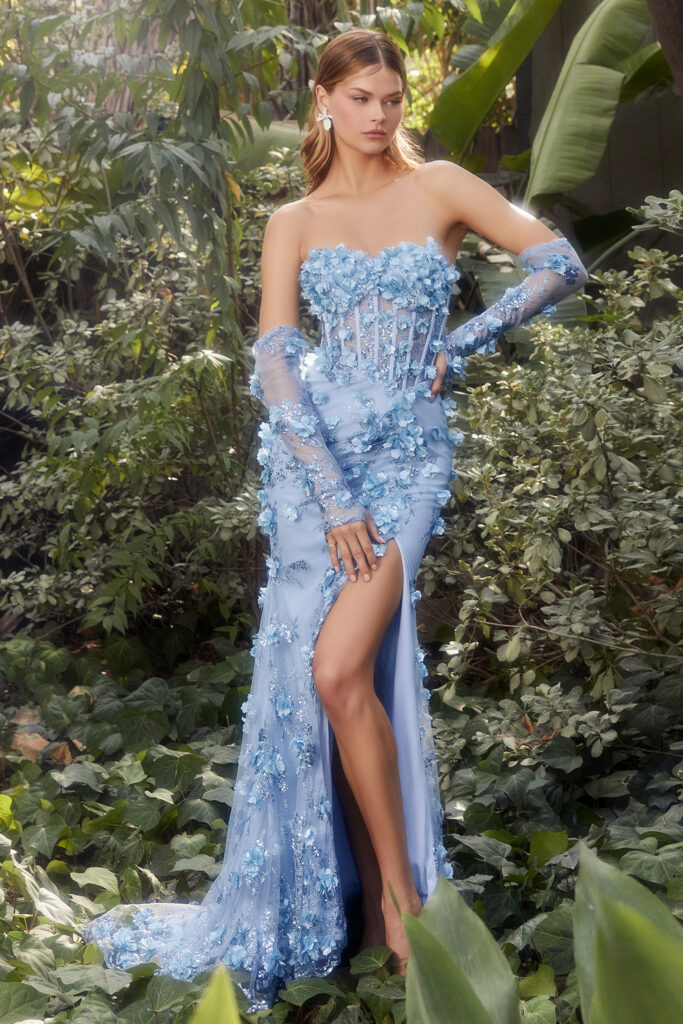 In your opinion, what are the most critical aspects of the fashion industry?
I challenge the notion of absolute "rights" and "wrongs" in fashion choices. The standards of what's deemed appropriate are ever-evolving, so why should anyone feel confined by them? I deeply admire women who dress for their own joy and express themselves through their wardrobe, regardless of fleeting trends or age-based expectations.
How did you gain a sister brand (Ladivine)?
Actually Ladivine existed before Andrea & Leo under a different name. This year, we are rebranding and reshaping Ladivine to encapsulate the archetype of a modern, confident superstar.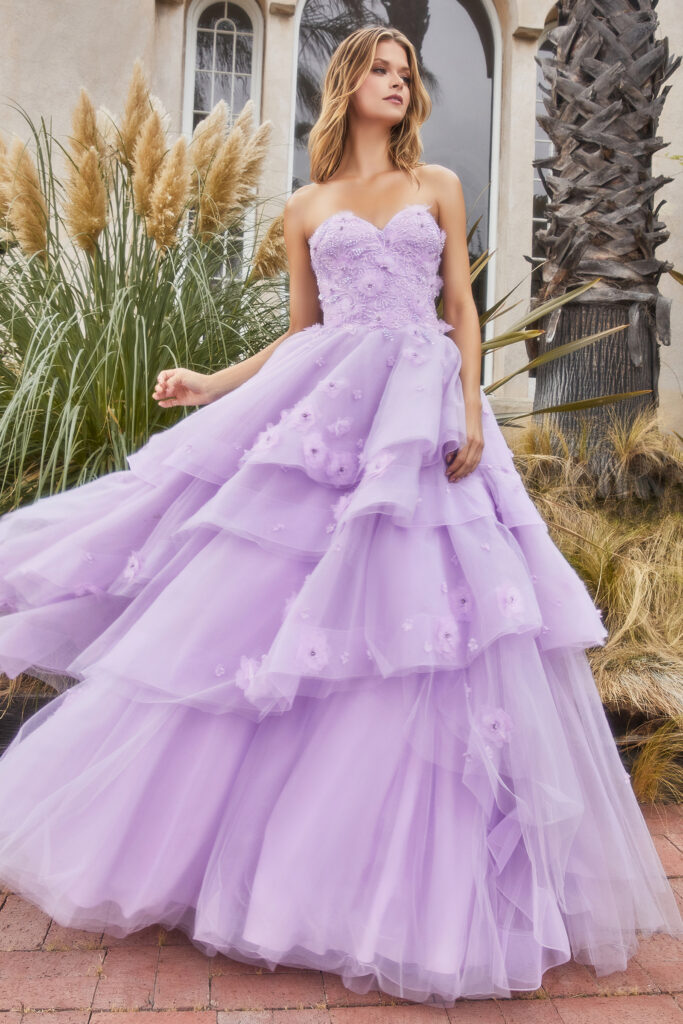 Could you describe some of your favorite pieces from your latest collection?
From the 2023 collection, one standout piece for me is the "A1150 RHINESTONE CORSET RUFFLE GOWN." It epitomizes the essence of a contemporary princess gown. At its core is a dazzling rhinestone corset, which seamlessly cascades into layers of ethereal tulle ruffles for the skirt. It's a breathtaking blend of sparkle and softness.
What is the price range of your dresses?
Our dresses typically retail between $350 and $800.
Where are Andrea & Leo dresses sold?
Andrea & Leo dresses are available globally at select boutiques and online retailers. For specific locations and partners, you can refer to the 'store locator' section on our website at www.andrealeocouture.com.
Where do you see yourself in the future?
I see Andrea & Leo becoming a brand synonymous with romance, expanding beyond just gowns.
What sets Andrea & Leo apart from the competition?
What makes Andrea & Leo different is that it's unapologetically devoted to being a subculture. We aren't driven by the pursuit of being conventional or mainstream. Instead, our essence lies in carving out a niche, empowering our customers to express themselves creatively and authentically.
For more information on Andrea & Leo, please visit: www.andrealeocouture.com.