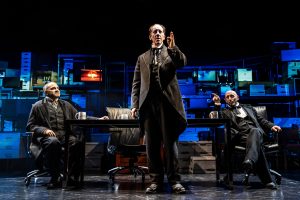 By Sarelle Caicedo
Anyone would agree, a 3 hour long play (or movie for that matter) is intimidating and maybe even a bit unnecessary! Trust me when I tell you that typically, sitting through a play of this length, especially if the seats are not well cushioned, is a dreadfully painful experience. However, I am pleased to say that The Lehman Trilogy was not that. Yes, there were three acts and two intermissions, but it felt like an hour and a half experience – so much so that when it was in the final few minutes, it almost felt that the ending was abrupt and I wasn't ready for it to end.
Weaving together nearly two centuries of family history, this play displays the humble beginnings, significant successes, and major failure of the financial institution that would ultimately bring the global economy to a crisis state.
The feeling that the play wasn't too long is all due in part to the acting. The Lehman Trilogy, starring Mitchell J. Fain as Henry Lehman, Anish Jethmalani as Emanuel Lehman, and Joey Slotnick as Mayer Lehman was incredibly captivating. The long and short of it is that it tells the story of the Lehman Brothers from start to its ultimate finish, with each character portraying around 10 + characters beyond the brothers, which made for a unique viewing experience. There were no costume changes, just voice changes and nuanced changes in body language. It made the audience pay very close attention, and solidified the fact that these actors are wildly talented. The set was also minimal, but attention grabbing. There were essentially no set changes, beyond moving a table here and there, and adding banker's boxes into a pile. There was a "mountain" of office equipment like chairs, cabinets, boxes, and tv's, which the actors would stand on, sit by, and hit for emphasis. At certain points, the tv's would turn on and a newscast would play on the screen, demonstrating the enormity of The Company's collapse.
Not only is this play the story of the beginning and downfall of The Company, but it's also a story of family-family honor, loyalty, bonds, pressures, and loss. It's also a story of the American dream, and what America specifically represents to immigrants. Being the daughter of an immigrant father, who owns a family business, this was strikingly relatable. The story begins on a cold September morning in 1844, as a young Jewish man from Bavaria (Henry) stands on a New York dockside dreaming of a new life in the new world. He is soon joined by his two brothers, and an American epic begins. The Lehman brothers were so full of life and vigor when they came to the states, and were so customer centric, that they were willing to do whatever it took, making decisions and mistakes along the way all in the name of growing their business.
It's also a story of mourning. What stood out the most to me was that each time a person in the brother's lives passed away, whether it be Henry himself, a wife, or a metaphorical phase of their lives or business, they would come together and mourn in the Jewish tradition of sitting shiva and reciting the very important prayer of the Mourner's Kaddish. As a Jewish person myself, when entertainment mediums attempt to demonstrate aspects of the religion and culture, it can be a mixed bag. More often than not, it results in an eyeroll here and there, or even blatant offense. The mourner's Kaddish moments, however, were done tastefully, correctly, and were used in an impactful way. Not only did each time it was recited show that someone had passed on, and the brothers were paying their respects, but it also signified the passing of time. It was a fantastic way to keep the plot moving. Each time it was done, it was said in full, but the shiva's themselves got shorter. To me, as the viewer, this demonstrated that the brothers were becoming busier, as we all do when we get older, and going through the motions so as to not completely disregard tradition. It was also a way of showing that the brothers were, whether it was intentional or not, distancing themselves from their heritage, there was less Germany and even less Alabama as they went on, focusing far more on status and wealth as the business grew. This was a subtle touch, but realistic and relatable.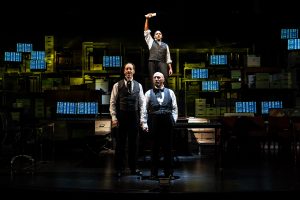 Co-directed by Nick Bowling and Vanessa Stalling, THE LEHMAN TRILOGY has been extended by overwhelming demand, and is very much worth attending. TimeLine Theatre Company's Chicago premiere production of Stefano Massini and Ben Power's internationally acclaimed and Tony Award-winning play is now playing at Broadway In Chicago's Broadway Playhouse at Water Tower Place, playing through November 26 at the Broadway Playhouse theater in Chicago, Illinois.
For More information, visit timelinetheatre.com or Facebook, Twitter, or Instagram (@TimeLineTheatre).