A bastion of Texas spirit, San Antonio is a city on the move, bridging history with new hotels, new venues, exhibits, family-friendly museums, and activities. Historic markers, cultural experiences, and culinary excellence await you. Celebrating its Mexican heritage, San Antonio is authentic, putting passion into every aspect of city life.
Where to Stay – Hotel Valencia
What I liked best about the Hotel Valencia boutique hotel is its location, along a quieter section of the River Walk, so you have easy access to everything River Walk in your own private oasis. Rooms feature Mediterrean-inspired luxury and contemporary comfort with a an Argentinian restaurant (and special paella bar at lunch), bar, swimming pool, in-room spa services, on-site gym and more. Just down the street were restaurants, bars, the Majestic Theatre and the Alamo. Other attractions like The Pearl, Market Square and the Missions are nearby.
Cruise down the River Walk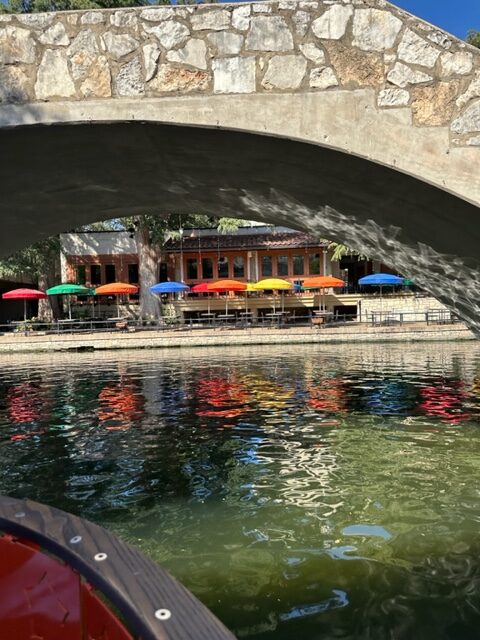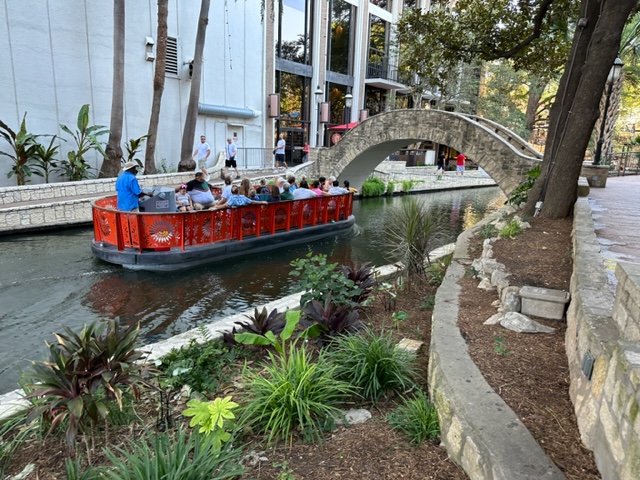 Your first stop should be San Antonio's legendary River Walk, one level beneath the downtown streets. It stretches across a 15-mile long walkway along the banks of the San Antonio River. Much of the River Walk is lined with restaurants, bars, hotels, and shops.
In 2011, they expanded the River Walk by several miles turning it into a green space for walking, running and biking to the "Mission Reach."
The best way to get a feel for the lovely River Walk is to hop on a 35-minute "Go Rio" boat cruise, which runs every 15 minutes. Get a chance to check out all the bars and restaurants and see where you want to return. Learn about the history, monuments, and sights along this historic route. There's also a River Shuttle that takes you out to the Museum Reach.
Check out the Buckhorn Saloon & Museum for history and great food!
If you look up and see a buck's head, you know you're in the right place. Buckhorn Saloon is a unique combination of a restaurant and two museums — Exotic Animal Collection and the Texas Ranger Museum.
Opened in 2006, this world-class Texas Ranger exhibit offers the chance to see priceless historic artifacts that span more than a century of Ranger history. Be sure to say howdy to Buffalo Bill, he'll sell you a ticket. And check out all of the Ranger paraphernalia.
The Saloon restaurant is known for its great burgers, chili, salads, sandwiches and more. Try the Sweet Potato Waffle Fries just for fun. Dip 'em into the Ranch dressing for a delicious treat. And the Lone Star Chili can't be beat.
Remember the Alamo
San Antonio's most important historic landmark is The Alamo, site of the 1836 battle which stands as a shrine to Texas liberty, receiving over one million visitors per year. Just opened in March is the new Ralston Family Collections Center which houses an extensive collection of Alamo artifacts, including contributions from rock musician and collector Phil Collins.
Walk around the grounds to experience living history. You can tour the chapel and outer barracks for free, but you'll need a timed ticket for the new museum.
The Alamo began as a Spanish mission but became a military fortress during Texas' war for independence from Mexico. The Battle of the Alamo lasted 13 days, from February 23, 1836 – March 6, 1836 with the Alamo falling. But it mobilized the troops, earning its independence later that year. Today, it remains an enduring symbol of resistance to oppression and a struggle for independence. Don't miss the movie that tells you more about Alamo history.
Where to Eat
Biga on the Banks on the River Walk
In a city known for its Culinary Institute of America Texas campus in San Antonio, you would expect great dining and innovative cuisine. Many chefs come here for training and never leave, making their mark on the San Antonio dining scene.
You have a lot of dining choices on the River Walk, but my money's on British-born Bruce Auden's Biga for really creative culinary inspiration. "Very new American cuisine" is how Biga presents itself with a full menu of premiere contemporary-regional fine dining with a twist on tradition. With such options as , Roasted Sweet Potato & Corn Soup, Angus Beef Denver and Sticky Toffee Pudding, their 3-Course Prixe Fixe Menu for $49 is the best way to go.
La Panaderia – Discover Bread Culture
Don't let the line outside the door scare you away, this place is worth the brief wait. La Panaderia specializes in handmade bread and pan dulce inspired by their mother's favorite recipes.
Brothers José and David Cáceres opened bakery-cafe La Panadería in 2014 to share their Mexican heritage. Everything I tried came out hot, fresh, and delicious. In fact, it was so good I went there for breakfast every day.
I loved the "Scrambled" with Turkey, Egg and Cheese served in a fresh croissant. Another day I tried the French Toast that was out of this world. Build your own Torta with your favorite sandwich like a Mexican Cubana to an Al Pastor. Be sure you walk out with a treat or two for your afternoon snack like the Nutella Cruffin or their biggest seller, the Tequila Almond Croissant. With three locations, La Panaderia is a San Antonio favorite.
Carriqui — Cooking with Fire, The True Taste of South Texas
Named for a bird native to South Texas, the Carriqui's menu reflects the flight pattern of the birds across the state. The restaurant is known for their authentic corn and barbeque smoked in the back of the restaurant. Their top seller is the Carriqui Burger, made with La Fortaleza Beef, cheddar, and smoked barbacoa. Blackened fish tacos are a popular item, too and the fish changes daily. I zeroed in on the Tuna Tostados as a starter and the Caesar Salad for the main. Did I have room for the churros in chocolate sauce? You bet!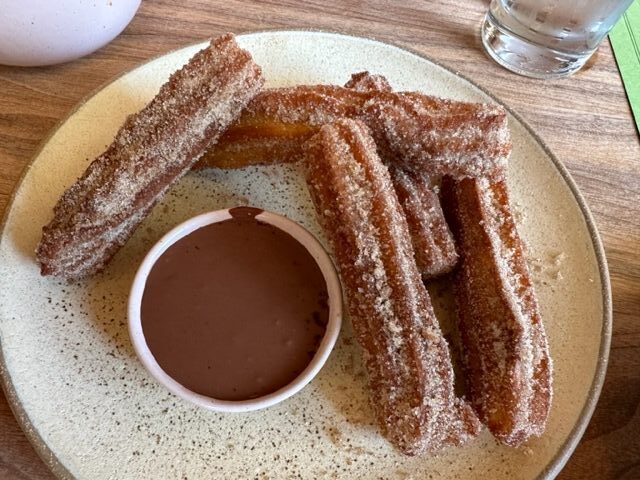 Moon's Daughter – A Taste of the Mediterranean
Atop the Thompson Hotel, is Moon's Daughter, a Mediterranean-influenced restaurant that serves cuisine from the entire geographical area. Chef Alma Alaya has created a sumptuous feast that tantalizes all of the senses. I started with delicious hummus served with fresh-made pita bread in olive tapenade. I tried the Roasted Beet Salad made with several different varieties of beets. The chef recommended the Angus Bavette with carrot puree that blended well with the Shatta hot sauce. But watching the sun set on the rooftop lounge over a glass of wine is what creates such a romantic ambience and all the magic of a starry night in San Antonio.
Smoke River Walk
For an authentic taste of Texas Barbecue, this is the real deal. You'll smell the smoke wafting in the air as you approach this River Walk restaurant. You'll want to inhale their brisket, turkey, ribs and chicken, served with cream corn, beans, potato salad and more. Enjoy sitting outside in their bar and watching the River Walk with a cool brew.
SA Side Car Tour – A Real Side of Fun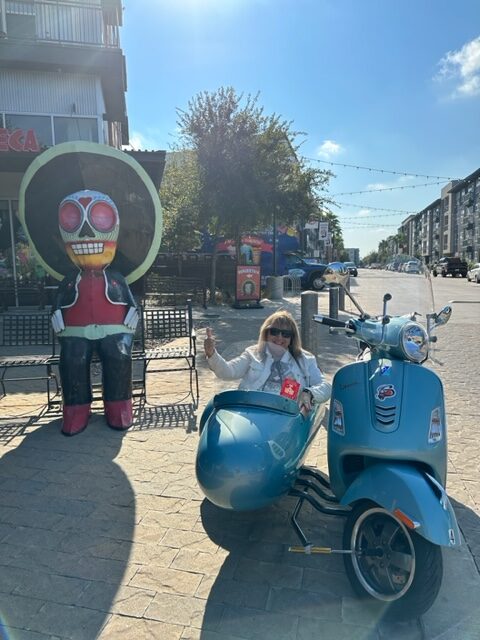 I couldn't wait to hop on one of these adorable little sidecars. My driver picked me up at my hotel and off we went to see the out-of-the-way gems in San Antonio. This is the only place in the U.S. you can ride these cars. My driver took me past the King William Historic District with its elegant European homes and Historic Market Square on our 90-minute ride. We even stopped at a food truck for breakfast tacos. The tours are customized to where you want to go. What a unique way to see the best of San Antonio. He dropped me off at The Pearl, where I could explore this amazing complex of chef-inspired restaurants, artisans, and beautiful open space. I can't wait to do this again!
Experience Jazz TX at the Pearl
This is the premier destination for live music in San Antonio, producing seven shows a week. Located in the basement of the former Pearl Brewing Company, you'll hear everything from jazz to salsa to Texas swing music in a really cool environment. Enjoy great dining with South Texas cuisine and cocktails, too. Check out their full schedule of 90-minute shows.
Hopscotch – Best Date Night Experience in San Antonio
Ready for something really unique? Head on over to Hopscotch for an immersive art experience that's perfect for couples or families. You'll feel like a kid again as you check out the 15 installations created by 40+ local, national, and international artists. You'll love interacting with the art in new and different ways as you immerse yourself in the unexpected. My favorite was the laser graffiti room where you can write your message on the wall with a laser and watch it come to life. Enjoy Texas cuisine, cocktails and live music, too.
Museums and Open Spaces
Discover the Witte Museum for nature, art and culture in an indoor-outdoor hands-on experience. Learn more about Texas history as well as dinosaurs and the native tribes who inhabited Texas. See their video called "Texas Deep Time" showcasing the themes of land, sky and water. There's even a play area out back with a climbing wall and zipline for the kids.
Ruby City is a contemporary art museum with paintings, sculptures and installations that elicits community engagement. Founded by philanthropist Linda Pace, the museum features pieces from her personal collection as well as a lovely outdoor sculpture park in the back. Admission is free but reservations are requested.
You must visit Hemisfair Park, where they're re-developing the site of the 1968 World's Fair into a vibrant community with open spaces, apartments, accessible playground and gathering place. Hemisfair Park is just one more example of how San Antonio works together for the betterment of the entire community.
Make your plans to visit San Antonio soon. You'll discover a delightful destination perfect for families, girls' getaways, and couples, infusing you with the great spirit of Texas. Coming up: Dia De Muertos Commemoration, October 27 – November 2 and their annual "Fiesta" – April 18 to April 28, 2024.