Koosh Face-Off
This take on the fan favorite Koosh line comes with face plates that can be changed to switch between 3 game modes, plus it can be hung on a wall or laid on the ground and works inside and outdoors!
$39.99 Buy now!
Jigsaw Surf Co.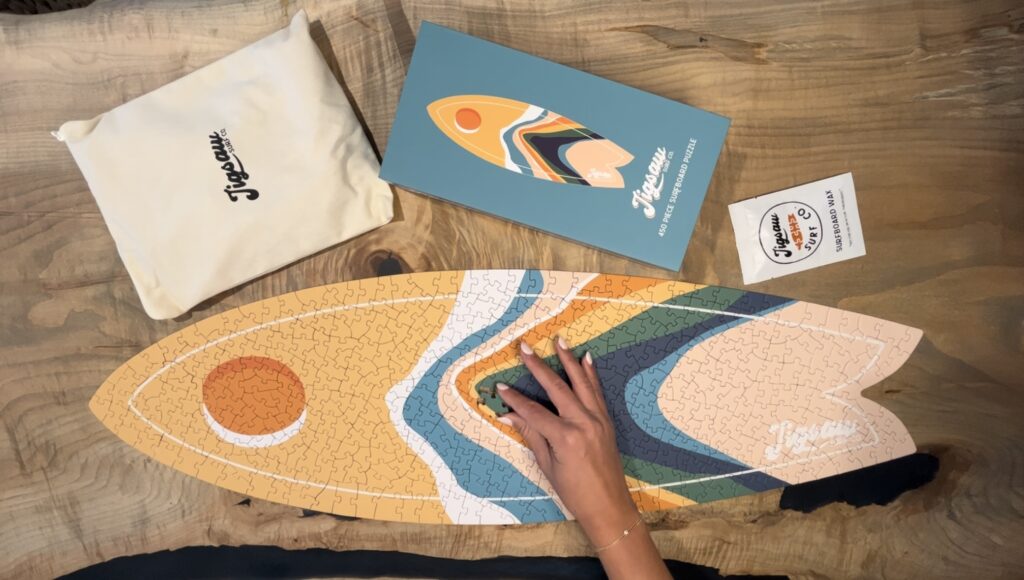 Jigsaw Surf Co.'s exclusive surfboard shaped puzzles are not only a premium, tactile diversion but a unique piece of art ready to adorn your walls.
Unlike anything on the market, these puzzles offer a refined experience right from the unboxing, owing to our soft touch finish, magnet box, and a reusable cotton bag.
$38 Buy now!
Barbie
The highest grossing film of the year, as well as in Warner Bros. history from writer/director Greta Gerwig will be available this holiday season.
Synopsis:
To live in Barbie Land is to be a perfect being in a perfect place. Unless you have a full-on existential crisis. Or you're a Ken.
Watch the trailer today!
$24.99 Buy now!
Memory Care Box
This holiday surprise the grandparents with this fun box to help them relive some of their younger years. The Memory Care Box consists of music and fun, nostalgic trivia and motivational items for seniors and those with various stages of cognitive decline.  Music is a main component of what is offered.  There are three options for delivering: CD, digital, and streaming. Choose from a pre-paid 1, 3, 6, 9 or 12 month subscription or choose to have a month-to-month auto renewing subscription. Any choice you make is sure to bring back memories of times gone by.
$24.99/one-month Buy now!
Cynthia Hart's Victoriana Cats Puzzles
Basket of Mischief 1,000-Piece Puzzle celebrates mischievous kittens to get into trouble, no matter the era. 1,000 interlocking pieces provide the perfect challenge for puzzlers.
Sewing with Kittens 1,000-Piece Puzzle will spark laughter as the adorable image of naughty kittens comes together piece by piece.
$24.99 Buy now Basket of Mischief or Sewing with Kittens!
Kids Crafts – Happy Holidays Felt Craft Kit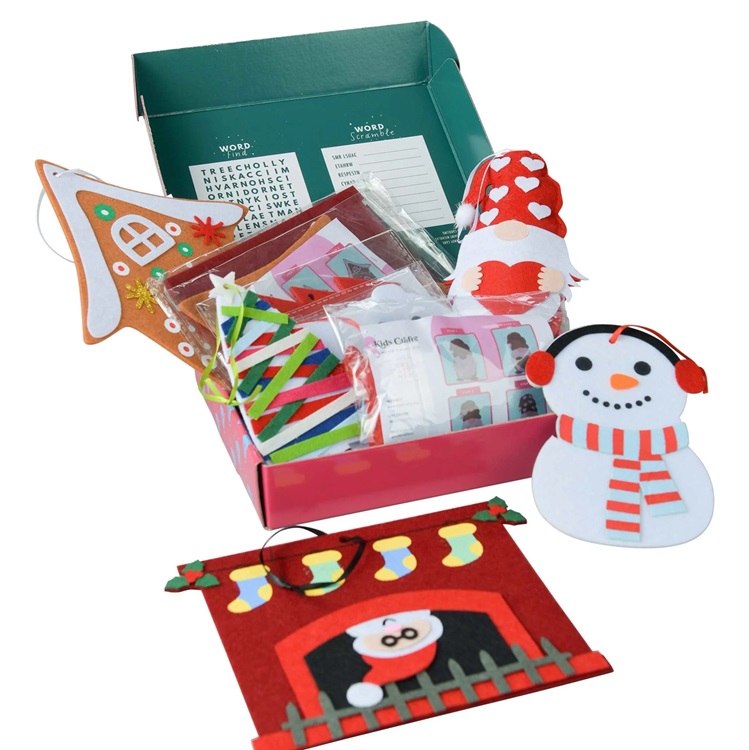 Learn some new skills and create some fun holiday decorations with this Happy Holidays Felt Craft Kit from Kids Crafts. Kids Crafts has a selection of amazing kits to help your child explore the endless possibilities around them. Some kits teach how to create and sell objects and others teach about cultures through art. Any kit you choose is sure to inspire and ignite their imaginations.
$19.99 Buy now!
Craft Crush DIY Arched String Art
Make a statement with your interior design using Craft Crush DIY Arched String Art! This pretty floral art piece has wire flowers, metallic leaves, and contemporary string art. Once you make it, display it on the included wooden easel and wait for the compliments to start rolling in. This project is fun to make and immediately adds style and class to your space! Comes with 9 yards of embroidery thread, 1 foam canvas, 90 metal pins, 40 pieces of die-cut paper, 12 pieces of printed die-cut paper, 1 piece of paper with tape, 27 pieces of metal wire, 1 piece of cardstock with tape, 10 rubber bands, 1 wooden easel, and instructions.
$19.99 Buy now!
Play Together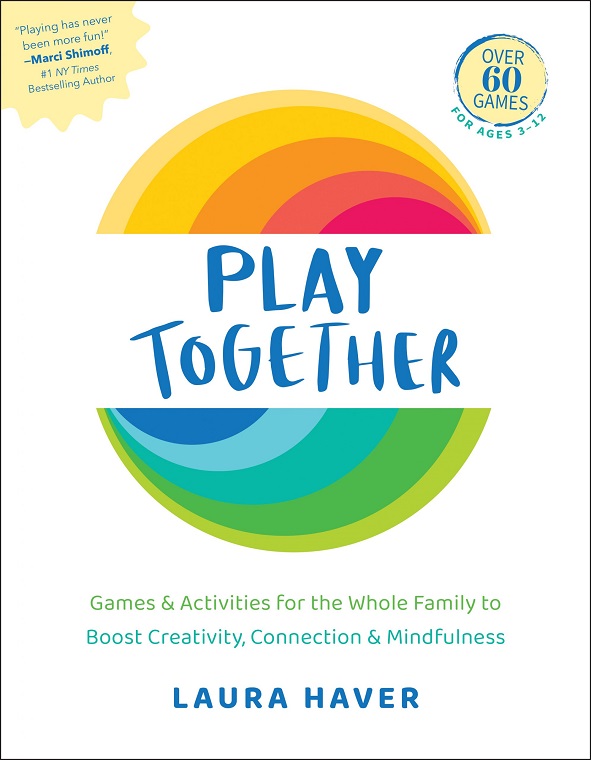 Laura Haver, is a play, happiness and communication expert and author of new family activity book Play Together. Play Together is the new go-to guide for family fun featuring over 60 games that promote bonding, connection, and growth. With many of the games using only things you likely have on hand, and only take 5 minutes. The games help foster better connection, kindness, movement and more with those you play with. Choose fun and happiness this holiday season with Play Together!
$17.67 Buy now!
Cynthia Hart's Victoriana Cats: The Sticker Book: 300 Enchanting Stickers
300 stickers of kittens and cats in all poses, just begging to be pasted into scrapbooks and displayed on laptops.
$16.99 Buy now!
It's A Date!™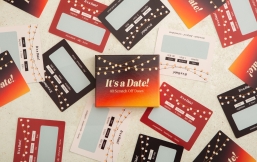 Help you or your loved ones out this holiday season with a game to help re-connect or stay connected all year long. It's A Date!™ is the answer to the age-old struggle of coming up with unique and romantic date ideas. This AAPI/BIPOC and woman-owned brand is your ticket to laughter and connection without any of the stress, all in a travel-sized package!
With It's A Date!™,you can choose a cozy at-home date, use it to explore your local surroundings or take them on your travels. These interactive and versatile scratch-off date cards offer a range of date ideas to fit various preferences, budgets, durations, and settings (indoor or outdoor), all curated by a real couple. So no matter where you are, there's always an exciting date waiting to be revealed.
$16.95 Buy now!
Dolly Parton's Mountain Magic Christmas
SYNOPSIS:
A modern-day movie musical about the making of a network TV special, Dolly Parton's Mountain Magic Christmas is the frenetic backstage story and delightful on-camera results of Dolly's desire to uplift an exhausted world's spirits by sharing the unique "mountain magic" she has always found in and around Dollywood at Christmas. Throughout the movie's production numbers and rehearsal chaos, Dolly finds herself taking a private journey into her past, guided by the mysterious appearances of her personal Three Wise Men. When it's time for her big special to air live, a renewed and inspired Dolly goes rogue and shows the world that the real magic of Christmas lies in the hearts of the children we all once were, the realization that Christmas is about the people we share it with, and how her faith remains the common thread between Christmases past, present, and future.
Watch the trailer today!
$14.96 Buy now!
Pigs on Trampolines
Yippeee! Jump for joy with Pigs on Trampolines! Use the trampolines to bounce your pigs into the pig pen and try to land in the mud puddle! Every pig you land in the puddle earns you a mud pie. Keep on bouncing your pigs until all the mud pies are gone—the muddiest piggy wins! Comes with 6 rubber pigs, 3 trampolines, 7 mud pies, pig pen (some assembly required), and instructions. For 2 to 3 players, ages 6 and up!
Elf (4K Ultra HD + Blu-Ray + Digital)
Synopsis:
This hilarious Christmas film tells the tale of a young orphan child who mistakenly crawls into Santa's bag of gifts on Christmas Eve and is transported back to the North Pole and raised as an elf. Years later Buddy learns he is not really an elf and goes on a journey to New York City to find his true identity. The film is directed by Jon Favreau and written by David Berenbaum. It is produced by Jon Berg, Todd Komarnicki , and Shauna Robertson, and stars Will Ferrell, James Caan, Zooey Deschanel, Mary Steenburgen, Edward Asner and Bob Newhart.
Watch the trailer today!
$13.99 Buy now!
Daddy Daughter Trip
Synopsis:
Daddy Daughter Trip tells the story Larry Bublé, an ambitious yet broke inventor struggling to keep his family eating and sleeping indoors. When he promises his eight-year-old-daughter the spring break vacation of a lifetime, he is forced to get more inventive than ever before. Suitable for the whole family.
A true family friendly film, containing no swearing, and flooded with childlike humor which is sure to make the kids giggle their tails off, Daddy Daughter Trip will be available to own on DVD and Digital on December 5th, 2023. Check out the trailer for Daddy Daughter Trip here.
$11.99 Pre-order today!
All images courtesy of their companies.
Feature image by Myriam Zilles on Unsplash