By Gerry Barker
Photos by Gerry Barker

Some twenty-five years ago, Pam and I took our first train trip. It lasted almost two weeks and covered 8,500 miles — Texas to Chicago, Chicago to Los Angeles, Los Angeles to Seattle, Seattle to Chicago and back home.

Along the way we met fascinating people, enjoyed amazing scenery and got to see the country the way you never can from an airplane, or even a car. In short, we were hooked.

Since then, we have crisscrossed the country on just about every Amtrak route, including the California Zephyr that runs from San Francisco to Chicago and the Coast Starlight, which follows Highway 101 along the West Coast.

Why trains? Yes, it is probably the slowest way from Point A to B, but let's face it, airline travel is such a pain with all the extra charges, security lines and air rage incidents. Plus, despite everything else, there's something old-school romantic about taking the train.

From our home base here in Florida, we have frequently taken Amtrak's Silver Meteor from West Palm Beach to the heart of Manhattan, which takes a little over 24 hours. In fact, we just returned from our latest excursion to the Big Apple. If you've never tried it, here's what you can expect:

Like the airlines, you can book different classes of service: Coach, Business or First Class. The latter gets you private accommodations, either a Roomette (a private compartment for two) or a Bedroom (which has its own toilet and shower). First class also includes all your meals, and a room attendant. But be aware going First Class, like the airlines, isn't cheap — you could probably fly first class for less, depending on your destination.

For our trip to New York, we decided to splurge and opted for a bedroom both going and coming back. Our train going to New York is the Silver Meteor, which departs the West Palm Beach station at 9:47 am and arrives in New York the next day around 11 am. Amtrak has another train that serves the Miami-New York route — the Silver Star. The Star takes four hours longer because it goes to Tampa. We chose the Star for the return trip.

On most of our Amtrak trips, we have traveled in roomettes, which traditionally included its own toilet and sink. But a few years ago, Amtrak decided to remove those and riders in that accommodation now use a communal shower/bathroom. Maybe they had good reasons, but it wasn't a popular decision for many of us.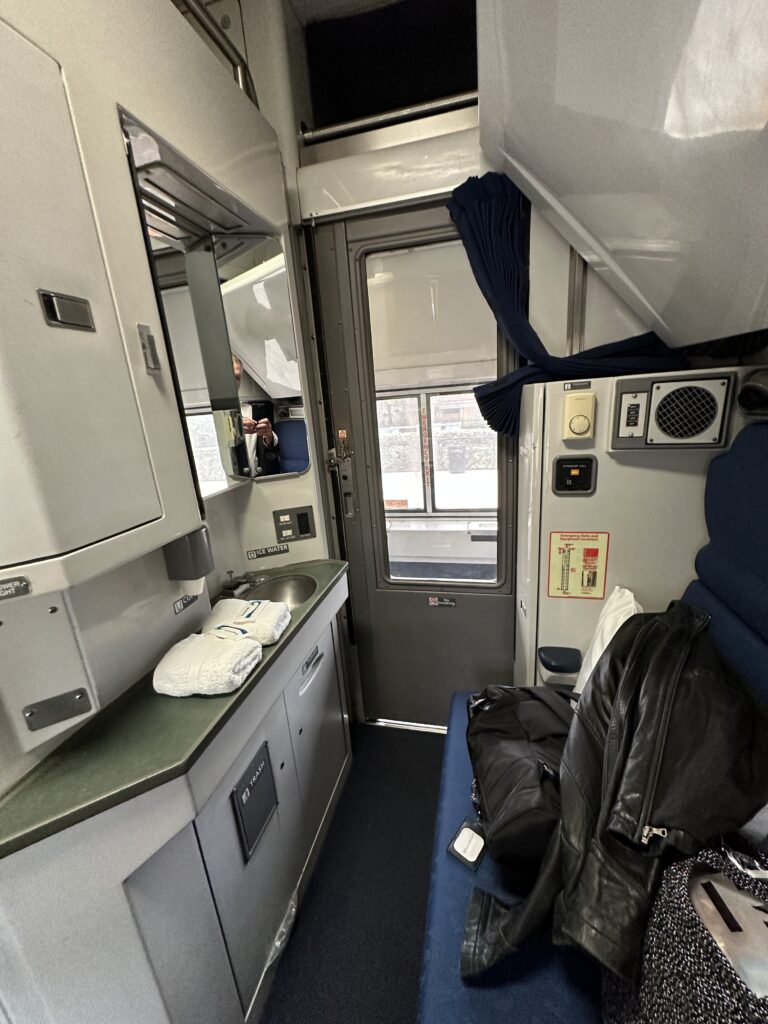 In both the bedroom and the roomettes, every inch of space has been utilized. much like I would imagine those compact apartments in Japan. Our bedroom featured a seating area that folds out into a bed, as well as a top bed. There was a sink with hot and cold water, and a combination shower/toilet. It also had an extra chair that swivels for scenic viewing.

You have storage areas up top, under the seats and a small closet on the side. We had one medium-sized bag and carry-ons, so we didn't check anything. If you have larger bags, you would probably want to check them to save space.

There are two plugs by the sink/mirror, which we used to charge our phones. Amtrak does have Wifi available, but it frequently dropped service as we traveled through rural areas. One thing we learned from our attendant: Don't bother adjusting the thermostat. It's not connected. Only the engineer can change the temperature for the whole car.

Our room attendant was Donovan, who told us has been with Amtrak for less than two months. He made our beds down when we ready to retire and made them back up the next morning.

As noted, first class includes your meals. During COVID, Amtrak removed the dining cars on many of their trains, and we were happy when we found out dining cars had been restored on the Miami-NY route. In fact, they were better than we remembered, with upgraded seats and fixtures that give it an art deco feel.
The dining room attendant will take your choice of dining times, and when you arrive, you are asked to sit side-by-side in four-person booths so everyone can be accommodated, which means you are often dining with strangers. This can be one of the benefits of traveling by train — meeting fascinating fellow passengers. Over the years, we have dined with ex-CIA agents, CEOs and a former dresser for Broadway shows that has become a good friend.

There is a fixed menu for breakfast, lunch and dinner, as well as a children's menu. The food itself is surprisingly good, served on white tablecloths, and includes a choice of desserts. Non-alcoholic beverages are also included. Service on our trips was inconsistent: Good going up, not as good coming home.

As for the ride itself, you do get to enjoy scenic views from large windows, even though our view was obscured somewhat by dirt and grime. Our train sorely needed a good drive-through train wash, if there is such a thing. And while the motion of wheels on steel can lull you at times, the ride got pretty rough in spots as the cars rock, rattle and roll their way along. Not sure if that's due to the age of the train or the condition of the tracks, but nevertheless, sleeping doesn't come easy. As we traveled through the Northeast, we noticed the train picked up speed. At one point, our speed app registered 117 MPH.

All along the way, there are chances for passengers to get off at stations and stretch their legs. We did that at Orlando, Jacksonville (one of the longer stops) and Washington, DC, where the train switches engines from diesel to electric, which takes about 30 minutes. It's enough time for some passengers to do some quick shopping at Union Station.
As the train departs Washington, you can get views of the Washington Monument, Lincoln Memorial and Capital building, especially on the Silver Star since you are there at mid-day. On the Silver Meteor, it will likely be dark or nearly dark when you arrive.

As you make your way up the East Coast, there are stops at various points throughout the night, but like us, you'll probably be in bed during that time. One bonus for November traveling is viewing the Fall foliage as you go north — something we don't get in the Palm Beaches.

Many of the stations retain their historic charm, and certainly Washington's Union Station is gorgeous, but the crown jewel is the new Moynihan Train Hall in Midtown Manhattan, bordered by Eighth Avenue, Ninth Avenue, 31st Street and 33rd Street. Named after U.S. Senator Daniel Patrick Moynihan, the nearly 500,000 square-foot complex was built at a cost of $1.6 billion and opened Jan. 1, 2021.

First class riders can relax in Amtrak's Metropolitan Lounge, which overlooks the boarding/shopping area below. There you'll find complementary drinks, food and lots of seating both inside and out. When your train is called, you are escorted to your track for boarding. Speaking of shopping, next to the lounge entrance is one of our favorite, go-to places in New York: Magnolia Bakery. While they gained fame for their cupcakes, their banana pudding is to die for. We bought both to take on the train.

Also noteworthy: Both the train going up and coming back were just about sold out, so while train travel isn't for everyone, for a lot of people it's still their transportation of choice. And while we can agree both equipment and tracks could use upgrading, there's good news on that front. The $1 trillion Infrastructure Law passed by Congress includes a $66 billion investment in rail systems, with $16 billion going to Amtrak's Northeast Corridor, which have the nation's most heavily-traveled routes. The traveling public can expect shiny new cars and fuel-efficient engines in the near future.

Factor in the success of privately-owned Brightline in Florida, which is also working to build a high-speed train from Southern California to Las Vegas, and the future of rail travel looks bright indeed.

All aboard!