We have many unique items in this guide. Click a link below to jump to the section that will work best for your gifting needs, or scroll through all our items to be inspired!
Products for the Home
Keystone Inspired Co.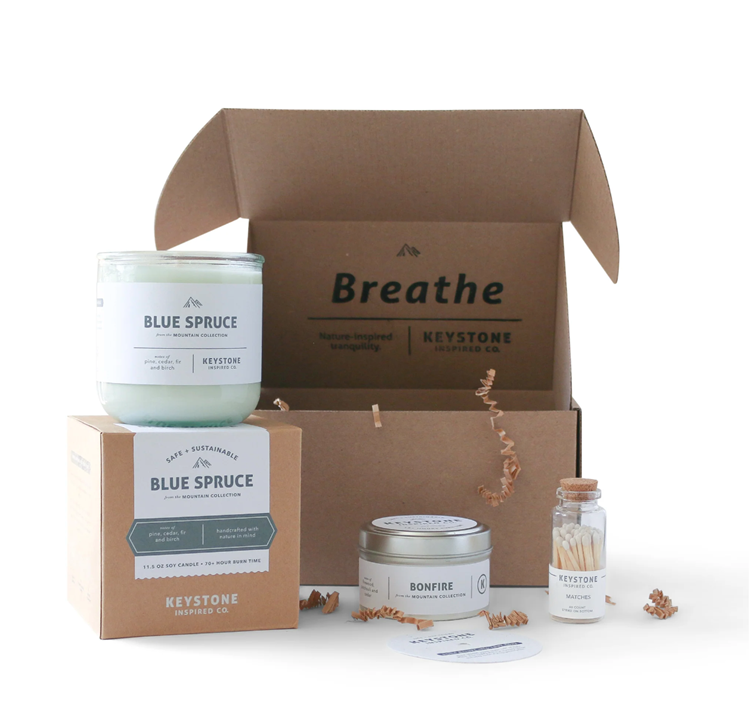 This holiday light a candle to help you relax from the planning and preparing. This holiday gift set from Keystone Inspired Co. brings you a variety of options to help you (or your loved one) unwind from a busy day. The 100% recycled glass jar candle, called Deck the Halls, brings a unique blends of cinnamon, cypress and patchouli, while the Blue Spruce tin candle will invite the outdoors in with notes of pine, fir and birch.
This woman-owned business not only creates quality, soothing aromas, but also is eco-friendly. Not only are the glass jars made of 100% recycled glass, but the paper toppers are seeded and can be planted to grow wildflowers. These soy candles are hand poured in small batches and are free of artificial dyes, with natural cotton wicks. Other scents and individual candles are available to purchase on their site.
$65.00 Buy now!
Desir Charnel AveSeena Wellness Candle
Woody, spicy, and criminally seductive, this scent is a testament of rich sophistication. A velvety seduction of elegant scent, this fragrance is simultaneously grounded and centering. It embodies calm amid chaos – with a sultry touch and an overall aura of dark mystery.
Recommended for: Invigorating the senses and shooing the stress away.
Mood: Sophisticated and Luminous Alchemy
Scent Story: Désir Charnel subtly whispers wealth, glamour, and mystery. The deep, plush seduction of lush amber melds with exotic saffron, ethereal neroli, precious jasmine, and deep woody base notes. This floral/amber/woody aroma smells unapologetically of carnality and unmistakably of sophistication. Enslaves your soul with a whisper "you smell so good".
$49 Buy now!
Cynthia Hart's Victoriana Cats: 12 Wrapping Papers and Gift Tags
Elevate any gift with twelve gorgeous sheets of gorgeously designed wrapping paper and gift tags.
$19.99 Buy now!
Wabi Whiffs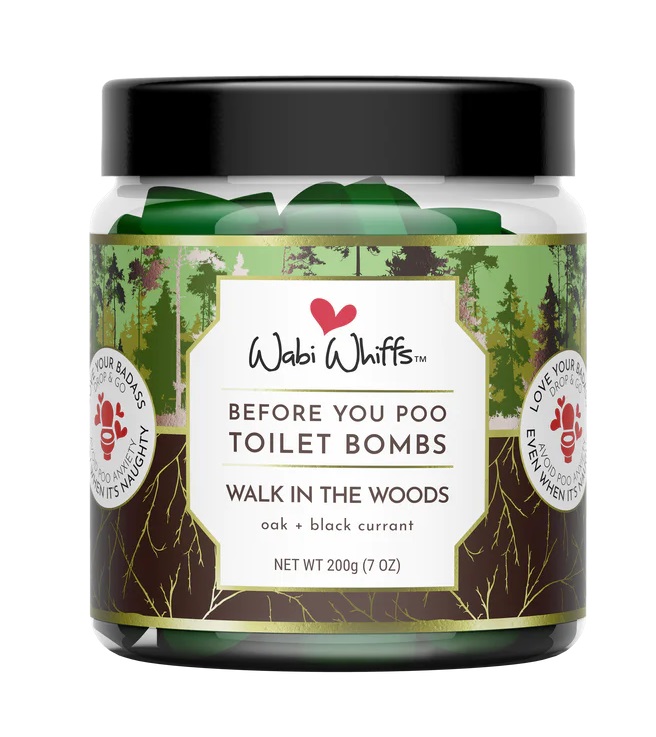 Keep the holiday bathrooms smelling good this year with Wabi Whiffs products. They instantly eliminate orders and come in a wide range of scents. The designs on the products can add to your bathroom decor. All products contain natural essential oils and are septic safe and non-toxic. Find the scent that is just for you today and stop worrying about what you leave behind in the bathroom!
$19 Buy now!
Cove Home Security
Keep your home safe this season with an easy set up system from Cove. No contracts or hard to understand instructions. Just choose your equipment, stick in place, and you are all set. Cove makes it easy to check in when you're out using an intuitive touchscreen and app, while their 24/7 professional monitoring handles the heavy lifting.
It can help you be protected from all life may have instore from sensors to alert you when a door or window is open, sensors to warn you about fires or indoor leaks, and cameras to keep your home monitored.
Pricing varies Buy now!
Take me to the table of contents
For the Kitchen
MeatStick 4
The MeatStick 4 is a perfect gift for any BBQ master or home chef out there. It has 3 Internal Temp Sensors (32-212°F) and 1 Ambient Sensor (32-572°F), making it's reading precise. The patented dual-shell™ high durability, means you can have it continuously monitor the heat of your favorite meat dish in deep-fry, smoker, grill, sous-vide and more. Plus it is dishwasher safe! All it takes is 2 AA batteries and you can cook master pieces for up to 70 hours.
$94.99 Buy now!
StoveShelf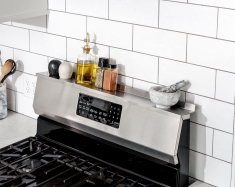 Easy way to transform your stove this holiday season with the StoveShelf. Perfect for any size kitchen and is hassle free to install. The strong magnets not only ensure a wobble-free shelf, but also make it very easy to just set it on the back of the stove and start using it. It will work on both flat and slightly curved surfaces. Available in three sizes and three finishes.
Dreamroo Over the Sink Colander
This basket makes it easy to strain, drain, thaw and more without setting the bowl on the bottom of the sink. It is freezer, dishwasher, and microwave safe made from 100% food grade silicone. Comes in four different colors and expands to fit most sinks.
$16.99 Buy now!
Prepara – Onion Dicer
Sometimes the hardest part of home cooked meals is dicing the onions, but now with this onion dicer the job is simple. Place the dicer on top of half an onion on your cutting board and push firmly down, and that is it. The stainless steel blade makes quick work of dicing onions, with the included pusher plate you can easily clear all the onions from the blades safely, plus it can double as a blade guard during storage.
$16.50 Buy now!
Prepara – Jar Spatula
Make sure to get every last drop out of the jars this holiday season with this silicone headed spatula. It can handle thick or thin goodness, making it perfect to clean out gravy, nut butters, sauces, jams and more. It has a long handle for getting into the deepest of jars. Easy to use, clean and store and the perfect gift for bakers this season!
Take me to the table of contents
Products for Pets
BONNE ET FILOU Christmas Dog Treats Gift Box
Your furry loved one is sure to love opening this treat box during the holidays! This box can be ordered on a one-time basis or make it a monthly subscription for your pup to enjoy. This box includes 18 themed treats such as dog bones, macarons, snowflakes, etc. These treats are handmade and designed in North America with locally sourced, human-grade ingredients that are baked in small batches to ensure top quality. Each is individually wrapped, with a long shelf life and no refrigeration is needed.
$69.99 Buy now!
SPLEASH ®
This all in one dog leash accessory is a must have this holiday season. SPLEASH ® is a patented handle that attaches to your pet's current leash to WALK, PROTECT, and REFRESH your pet on the go. It can hold up to 12 oz of waters, to ensure your dog can have a drink along the way, or you can spray incoming off leash dogs with a bit of water up to 14 feet away. Be sure to check it out and get yours today!
Follow them on social media @spleash_your_leash on Facebook!
$34.99 Buy now!
ApexLabs CBD Dog Treats
This holiday season give your furry friends a delicious treat that supports their health and wellness. THese treats can help with scarry moments, anxiety and more. There is 25mg CBD per treat and they are made with natural ingredients with flavors that include chicken, beef, turkey and pork. They are coated with 100% Norwegian salmon oil.
$29.99 Buy now!
TEEF for Life
Help protect your pets mouth with TEEF. TEEF targets the cause of bad breath, tooth loss, and gum disease by inhibiting the growth of harmful bacteria while good bacteria are essential to great dental health. With just a scoop per day in their drinking water, you can help add years to your pet's life, and life to their years!
Teef's new packaging makes it even easier to get started with a reusable glass jar for storage, easy-to-use, pre-measured scoop, and reorder refill powder packets at up to a 20% discount!
$28+ Buy now!
Plants for Pet Parents – Pet Safe Indoor Plants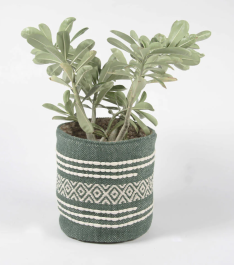 Create a beautiful space indoors with live greenery this holiday season. All their plants are classified by the ASPCA or scientific sources as non-toxic for cats and dogs. They are eco-friendly and ethically-sourced with handmade pots, hanging planters, or just buy a plant to put in one of your pots. To make it even better, a tree is planted with every order!
$13+ Buy now!
Take me to the table of contents
*Photos courtesy of respective companies. We were not paid to promote these items, though many of the companies chose to send us the product prior to (and after) the publication of this guide.
Feature image by Rhaúl Velasquez Alva on Unsplash