Disney 100: The Exhibition invites you to the Birthday Bash of a lifetime. Disney, as the World's premier entertainment giant, started with an impossible dream made possible by imagination, vision, and persistence. As Walt Disney was fond of humbly saying, "It all started with a mouse." After discovering he did not own the rights to Oswald the Rabbit, his successful creation, he vowed never to allow that to happen again. On a train ride from New York City to Los Angeles, he was inspired to create a mouse character named Mortimer with the personality of Charlie Chaplain. Someone small trying to do the right thing despite life obstacles. His wife wisely suggested the name Mickey instead of Mortimer. Thus, Mickey and Minnie in the Steamboat Willie cartoon were born 95 years ago on November 18, 1928, coinciding with the November 18, 2023, public opening of Chicago's Disney 100. Walt Disney realized effective storytelling demanded characters with personality.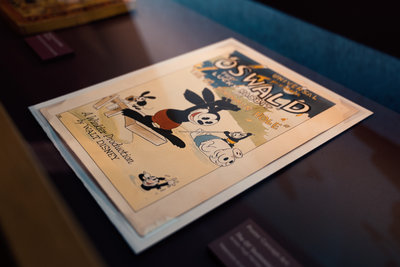 It is exceptionally fitting that Disney 100 is opening in Chicago because this was Walt Elias Disney's birthplace. His father, Elias Disney, a carpenter, built the lovely 1905 blue and white cottage home, which still stands in the Northwest Hermosa Park neighborhood. Walt attended McKinley High School in 1917 and took night classes at the Chicago Academy of Fine Art, later becoming the Art Institute of Chicago.
The first gallery you enter is a welcome greeting from Walt Disney Director of Archives, Becky Cline. She is charged with preserving, protecting, the extraordinary, iconic, treasure trove of Disney historic props, artwork, costumes, and more that Disney 100 is now sharing. Walt Disney Company, Chief Executive Officer, Bob Iger, reminds us "There are few companies that have both a legendary past as well as a limitless future." This is because Walt's ideas and philosophies became the foundation of story cartoons, animated features, memorable music, live action films, nature documentaries, television shows, theme parks, experiences and more. He abided by three C's Curiosity, Confidence, Courage, and Constancy. It still informs eveything they do revolutionizing the entertainment and information industry.
This is an opportunity for Chicagoland and Midwestern families, children, and the young at heart to journey through the magical world of Disney. As an adult, you are entitled and should be required to celebrate your Happy Birthday for the whole month you were born into. In 1923, Walt Elias Disney and his brother Roy founded the Disney Brothers Cartoon Studio in Hollywood, California. Since being in existence for 100 years, the studio, now known as the Walt Disney Company, has earned the privilege of celebrating the whole year or even longer.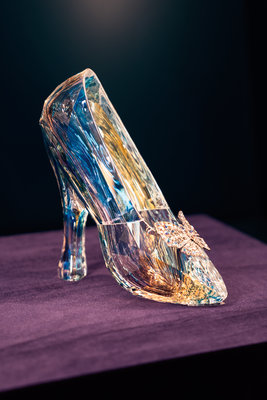 You have the unique chance to marvel at the magic moments Disney has created over the last century during this joyous holiday season. Disney does it best. The Disney 100: The Exhibition is beautifully curated and housed in ten extensive galleries covering 15,000 square feet, showcasing Disney's "Crown Jewel" archival treasures. Over two hundred fifty artifacts and works of art, costumes, props, and incredible memorabilia are artfully displayed. I loved the jeweled property books and was so delighted to see the Cinderella glass stunning slipper. It shimmers like crystals and diamonds. The carousel horse Mary Poppins (Julie Andrews) rode was charming. I loved viewing one of the thirty-two Oscar Awards Walt won. He won more Academy Awards than anyone else. The StarWars Storm trooper model was impressive and Captain America's Shield is magnificent MARVEL memorabilia.
There is something for every age group in this spectacularly arranged exhibit. The themed galleries range from an immersive interactive stories such as Mickey Mouse shorts, to classics like Cinderella, Snow White, Mary Poppins, Peter Pan to more contemporary genre like Encanto (2021). Included in the galleries are the newest members of the Disney family Pixar, Star Wars, MARVEL, and National Geographic. I particularly enjoyed the sound studio gallery where you could choose the sound tracks from favorite films. You are reminded how critical is sound in setting the mood for superior story telling. Jodi Benson, the original voice of Ariel, in the animated 1989 The Little Mermaid Film was available for questions and photos. There was also a marvelously, richly, costumed Ursula from The Little Mermaid strolling about.
Disney 100: The Exhibition is located at the Exhibition Hub Art Center( formerly known as Windy City Fieldhouse) at 2367 West Logan Boulevard in Bucktown, close to the Kennedy Expressway. Free Parking is available; always a plus in Chicago. There is additional parking on the second floor of the Target Store parking garage. The venue is accesible to all visitors. Timed Tickets are available through the Chicago Disney website. Hours are Monday-Thursday 10:00 a.m. to 6:00 p.m. Extended hours for the weekend Friday-Sunday 9:00 a.m. to 7:00 p.m. It takes about 90 minutes to view the entire exhibition.
Photos: Courtesy of Disney 100: The Exhibition and Fever Production