The search for a tombstone dating back to the 14 hundreds is the theme of Fioretta, a compelling and beautiful movie. It is a travelogue, a mystery, a history, and mostly it is an example of a of how the study of genealogy can reveal fascinating and unexpected information.
There is a lovely rhythm and gentleness as the movie progresses bringing in newly found relatives and experts of all kinds as it moves forward.
Film director Matthew Mishory and subject, genealogist (and subject of the film WOMAN IN GOLD) Randy Schoenberg host the FYC screening series from Tel Aviv, where the outbreak of war stymied plans for the Israeli premiere at the ANU museum. The filmmakers instead screened the film online for 140 of the museum's ticket holders who viewed the screening as an act of solidarity standing with Israel in the face of terrorism and cowardice. From Randy's genealogy colleague and friend Rabbi Marmorstein: "The irony of Fioretta, with its topic of ancestral escapes, showing in Israel the weekend of this new monstrous attack on peaceful Jewish civilians, is remarkable. Bring its message everywhere."
The travel in the film took me to places where I have been and could relate to, and to places where I have never been but would like to visit. Everything about the film was beautiful and civilized while many of the stories revealed, were not.
Filmed on location in Prague, Czech Republic; Vienna, Austria; Venice, Italy; Florence, Italy; and Los Angeles, United States, FIORETTA follows renowned American lawyer and genealogist Randy Schoenberg and his teenage son Joey Schoenberg on a journey through Europe (and the centuries) as they reclaim and reunite the fractured shards of 500 years of family history. Along the way, they encounter kings, mystics, and a false messiah, as well as the ordinary people who witnessed Europe's distant and recent past.
As the movie progressed, it was fascinating to observe the interaction between Joey and his father, Randy. With each new discovery there was more delight and surprise and seemingly an increased closeness between the two. With the final revelation, it seemed that Joey grasped the amazing role of his ancestors in his life and he will likely carry these memories forward. As it stated in the film, one lives as long as there is someone alive who remembers them. I will certainly remember this film which I highly recommend.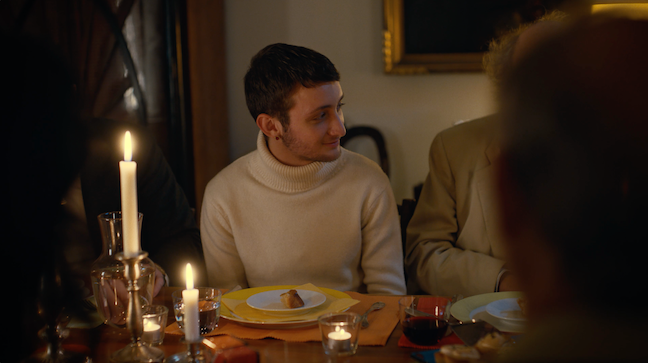 Fioretta also won THREE awards at the recent DocLA Festival.
The film plays a week's qualifying run at the Laemmles, with ticketing details here: https://www.laemmle.com/film/fioretta
:
Friday 12/1 to Thursday 12/7 at 1:00PM PST, 4:00PM PST, and 7:00PM PST at Laemmle Royal, 11523 Santa Monica Blvd, 1st Floor, Los Angeles, CA 90025
Sunday 12/3 at 4:00PM PST and Tuesday 12/5 at 7:00PM PST at Laemmle Town Center 5, 17200 Ventura Blvd, Unit 121, Encino, CA 91316
Q&A's with Schoenberg and Mishory will follow 7:00PM screenings at Laemmle Royal on Friday 12/1, Saturday 12/2, Monday 12/4, Wednesday 12/6, and Thursday 12/7; and at Laemmle Town Center 5 on Sunday 12/3 at 4:00PM and Tuesday 12/5 at 7:00PM.
Photo credit: Rubber Ring Films
: