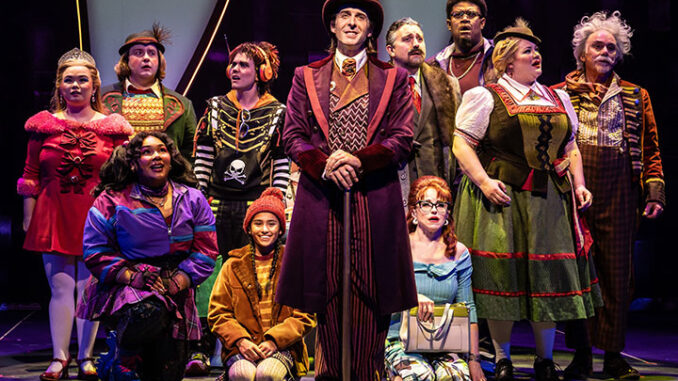 The Paramount's exceptional production of Charlie and the Chocolate Factory will take you on a delicious ride you won't soon forget. The Paramount usually goes all out for its holiday productions, but this is above and beyond even its usual standards. From the exceptional cast, to the incredible set, direction, and choreography, this is a must-see production. Even if you usually go nowhere near Aurora, you need to get to the theatre to see this one.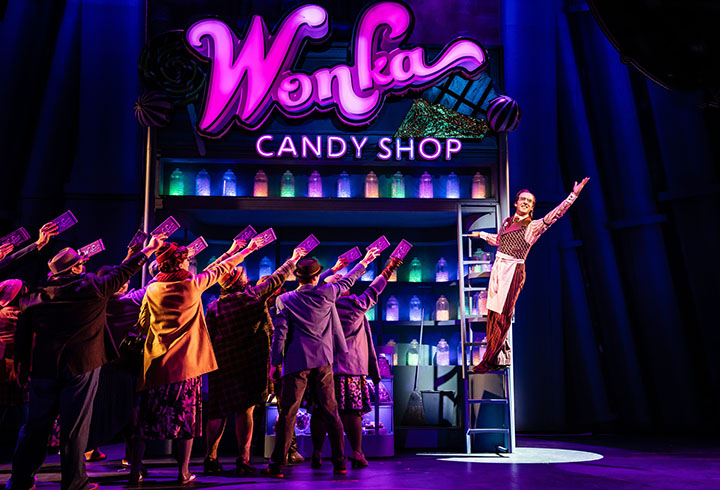 In addition to all the familiar songs by Leslie Bricusse and Anthony Newley from the classic 1971 film, there are additional hilarious songs by Marc Shaiman and Scott Whittman (of Hairspray fame) that make this even more delightful than you remember.
The title character of Charlie Bucket is shared in this production by Charlie Long and Meena Sood. I was there on a night where Ms. Sood played the part. Her bell-like voice and plucky charm are impossible to resist. You couldn't ask for a better Charlie. And Stephen Schellhardt is an eccentric marvel as the mysterious candy maker Willy Wonka. And he passes the test of all the best Willy Wonkas. You totally believe that he would allow children to be maimed or killed in his factory for bad behavior.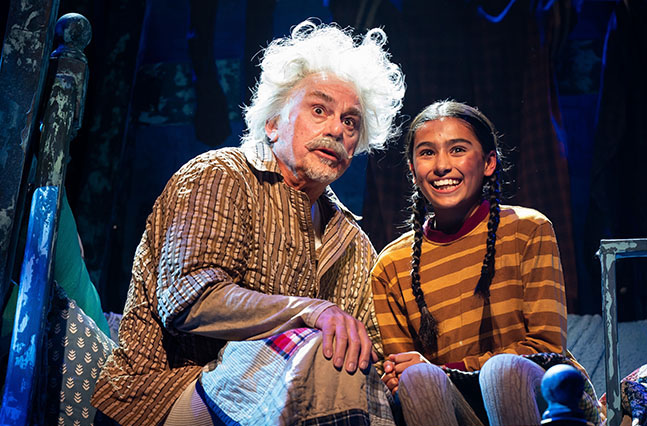 There's not enough good to be said about the book of this show. It's full of excellent jokes that work and all of the various parts have been beefed up from the film. The quartet of grandparents are absolutely hilarious in the first act and have wonderful lines and are played with gusto by Jared David Michael Grant as Grandpa George, Nellie Shuford as Grandma Georgina, Lydia Burke as Grandma Josephine and the fabulous and hysterical Gene Weygandt is Grandpa Joe. Charlie's long-suffering mother is played here by Jaye Ladymore who sings her signature song with incredible beauty and control. It was a standout moment in a show jam-packed with them.
The introductory songs for each of the golden ticket winners are absolute barn burners from Augustus Gloop (David Blakeman) and his mother's (Abby C. Smith) wild oompah German number to Veruca Salt's (Devon Hayakawa) insane ballet to Tiffany T. Taylor channeling Lizzo as Violet Beaureguard with her posse. Maybe the highlight of these, however, is the Mike Teevee (August Foreman) white trashstravaganza starring Heidi Kettenring as a thinly-veiled Sarah Palin.
When the children get the chance to visit Wonka's top-secret chocolate factory, the show explodes into an extravaganza of color and invention. Not enough good can be said about the set, which drew audible gasps from the crowd when it was revealed. The elaborate "candy-making machines" and ingenious props transport us into Wonka's wacky world of pure imagination. The set pieces and business are amazing and the song and dance numbers for each of the ticket holder's fates are also as fun as the original introductions.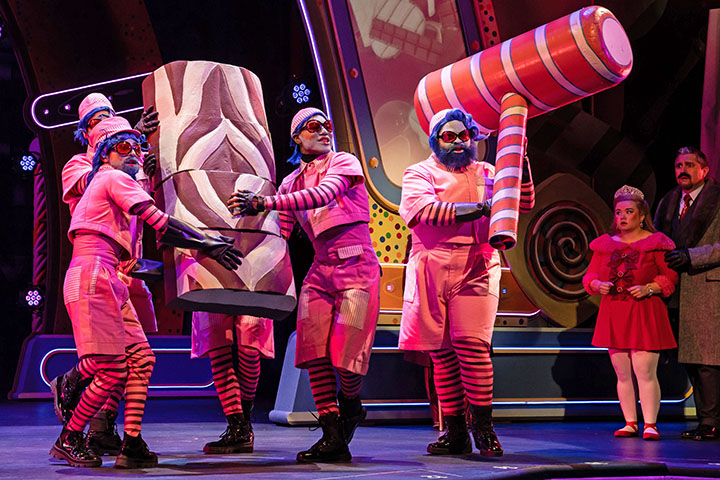 The incredible projections, lighting and other technical magic elevate this show even more. There's nothing more to be asked for.
Joyful, funny, sweet and loaded with surprises, Charlie and the Chocolate Factory is a delectable treat that will have people of all ages clamoring for more. This lavish production proves pure imagination can transform a beloved story into a musical to be savored. Don't miss your chance to see this wonderful production!
Tickets can be acquired at the Paramount Theatre Box Office. It's playing now through January 14.
Photos by Liz Lauren