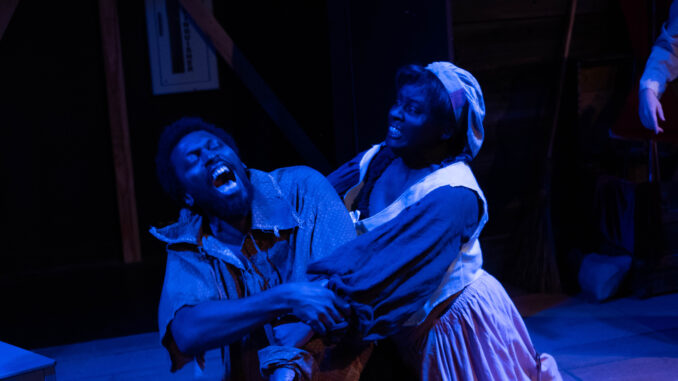 The Pear Theatre is mastering the challenge of Shakespeare in this unique play by John Heimbuch. For many of us, Shakespeare is a larger-than-life icon of literature, not a regular human being with problems and emotions. "William Shakespeare's Land of the Dead" gives its audience a look at the Bard as a playwright, manager, casting director, royal subject, businessman, and vulnerable human being who experiences deep emotions.
The play is set in the Globe Playhouse of London, Shakespeare's venue. The year is 1599, the Elizabethan era. Shakespeare (William J. Brown III) is in charge within the theatre, but challenged by the actors, employees, and other dignitaries of London. He is forced to defend his creative ideas and casting decisions. Those familiar with Shakespeare's work will enjoy the many references from his plays that fit into this plot perfectly. The question is subtly raised as to whether he penned all of his plays, or took credit for the ideas of others. A main subplot here is Shakespeare's dealings with Sir Francis Bacon (Marc Berman) who has written a play and asks Shakespeare to produce it. But who will get credit for the script?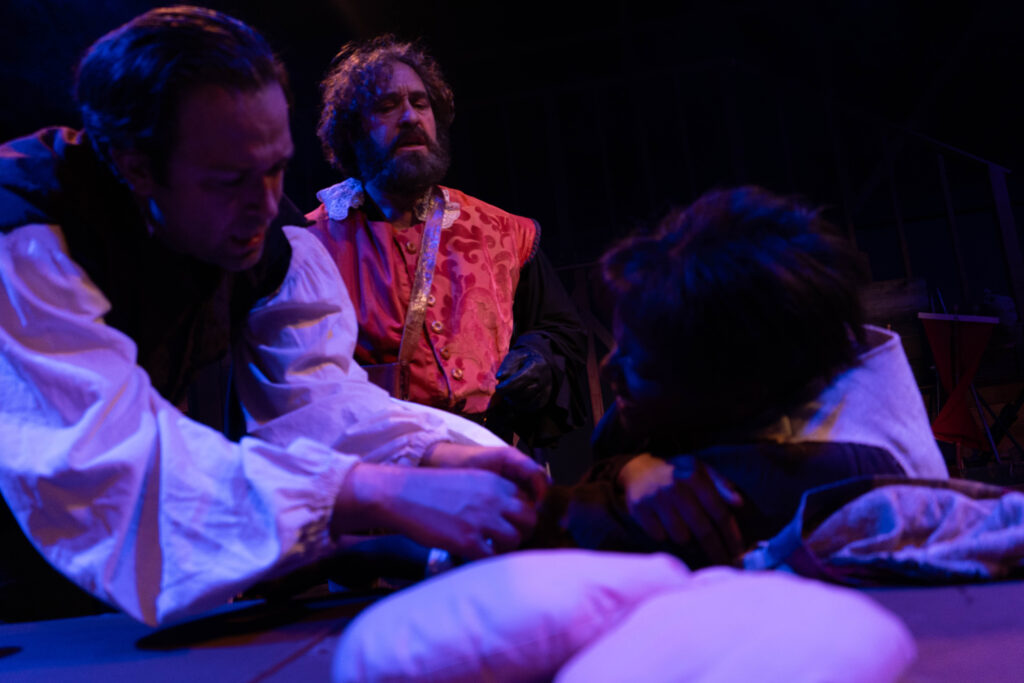 The conflicts between the various egos are as timeless as Shakespeare's many plots that are repeated in just about every form of entertainment today. Enter the actor Kemp (Annamarie MacCleod) who demands bigger roles in future plays. Creative geniuses collide here in predictable ways. Other characters take sides in the conflict. But all these differences get magnified when the 1599 Zombie Plague of London hits the Globe Playhouse. Some people are infected and killed or sent away. Queen Elizabeth and her entourage seek safety within the Globe, and thus it is quarantined from the rest of London. Egos collide, differences in strategies cause great conflict, and the Zombies keep trying to invade the Playhouse. Having just experienced COVID with quarantining and ever changing ways to deal with the crisis, I could relate to the emotions and fears of the characters. I won't give away how the Bard and the Zombies interact and resolve the crisis. You have to see it to appreciate it.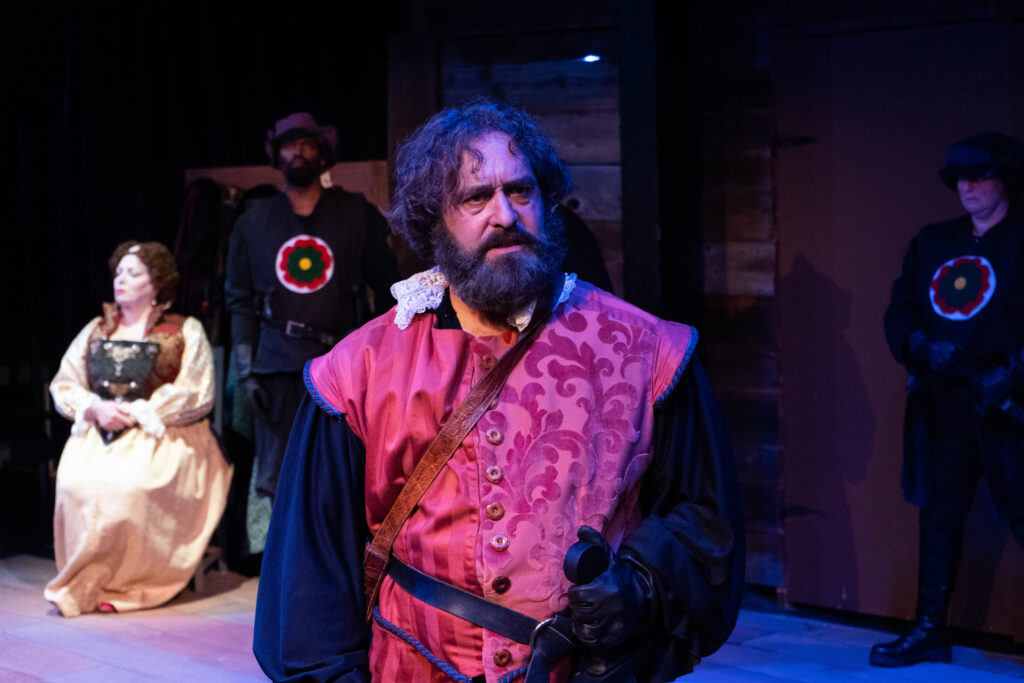 If you are a frequent theatre-goer in the Bay Area, you will recognize many members of this cast. They are deep on talent and experience. Adding to their challenge of bringing these historical figures to life in "William Shakespeare's Land of the Dead" is the fact that this play is being performed in repertory with "District Merchants," Aaron Posner's modern take on Shakespeare's "Merchant of Venice." The same cast portrays different roles in this play, and on some days, both plays are performed. Not every actor can manage these transitions, but this ensemble made it look easy.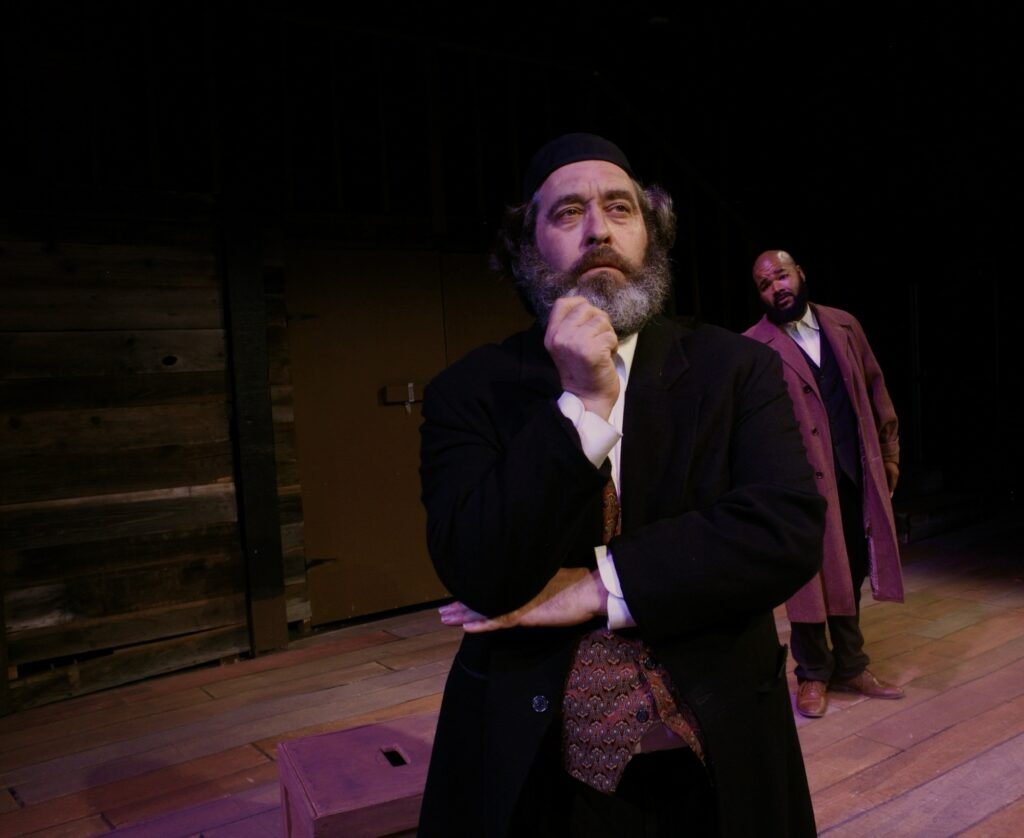 "District Merchants" is an uneasy comedy that examines the complexities and complications of life in America in 1870. It is extremely relevant today, given the current events headlining our news. Prejudice, preconceptions, economic and religious differences and how our country dealt with them make you think about how the whole world is still dealing with these issues. I haven't had the opportunity to see this yet, but I can anticipate another great performance. Together, these plays entertain and make you think. That combination makes for great theatre.
"William Shakespeare's Land of the Dead" and "District Merchants" are at the Pear Theatre from November 17 through December 10. Specific dates and times are on the website, thepear.org. The website also gives you information about upcoming productions that promise to be great. The Pear has unique offerings along with the long running plays. They are fun and imaginative often highlighting new talent.
This is an intimate theatre, so buying tickets early is a good idea. I always feel so welcome at this theatre, and I have watched employees there make everyone feel comfortable and appreciated. There is a very special atmosphere at this theatre. The Bay Area is lucky to have this convenient yet first-rate theatre.
Photos of "William Shakespeare's the Land of the Dead" by Sinjin Jones
Photos of "District Merchants" by Caitlin Stone