By Kathy Carpenter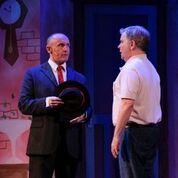 Baseball, football, basketball, no matter what your sport, admit it, at one time or another most of you would sell your soul to the devil to give your team a better chance.
For over 25 years I was a die hard Padres fan. Through thick and thin, mostly thin, and I know the feeling. Now I go to plays. What a treat to see Damn Yankees. Like a double hitter, the best of two worlds, theater and baseball.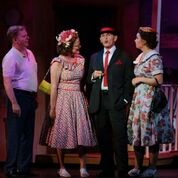 Damn Yankees is a home run. Singing, dancing, acting, and baseball. What more could you ask for?
Based on the book "The Year the Yankees lost the Pennant," by Douglass Wallop and George Abbott, the San Diego Musical Theater rendition brought the fans to their feet, whopping and cheering. Directed by James Vasquez. Choreography by Jill Gorrie, with Don LeMaster as musical director. Damn Yankees is the story of a man who sells his soul to the devil so his baseball team the Washington Senators can get a long ball hitter. With an escape clause. The devil rewinds his time clock twenty years. Joe Hardy becomes the baseball player hero the Senators need. But he misses his wife.
Steve Gunderson plays Joe the elder. A devoted husband six months of the year. Devoted baseball fan who ignores his wife the other six. Back in the fifties when a more innocent time, but fans were die hard even back then. Even more so because life was less complex. Gunderson made a great arm chair husband. Chaz Feuerstine played young Joe Hardy, baseball legend Shoe Less Joe. A part he was made for. My favorite was Neil Dale as Applegate, Satan himself. Being Catholic I guess I'm a sucker when it comes to people being tempted.into evil. Indulging without taking on the sin. I also, enjoyed Katie Sapper as Gloria the reporter. I think what fascinated me about Katie was her resemblance to the new Wonder Woman. I went to see the movie two days before the play and could not believe how much Sapper looked like her. Tracy Ray Reynolds played Joe's wife Meg. The perfect fifties wife. And let's not forget Leslie Stevens as Lola, the temptress. The Devil's plaything who falls for Joe.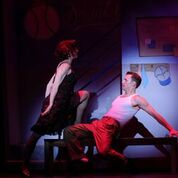 Of course, everyone's favorite number is "What Lola Want's." The attempted seduction of Joe. Although watching all those baseball players dance around the stage not a bad thing.
"Founded in 2008, San Diego Musical Theatre is dedicated to passionately producing and providing musical theatre that ignited the human spirit."
San Diego Musical Theatre teams with You give We give community charities and for the run of Damn Yankees is partnering with Special Olympics San Diego. A great cause. Help fill those buckets with spare change at the end of the show.
Coming September 22, 2017, Billy Elliot.
Damn Yankees
June 2 – June 18, 2017
Thursdays at 7:30 p.m.
Fridays at 8:00 p.m.
Saturdays at 8:00 p.m.
Sundays at 2:00 p.m.
Spreckles Theatre
121 Broadway
San Diego, CA 92101
phone: 858-560-5740