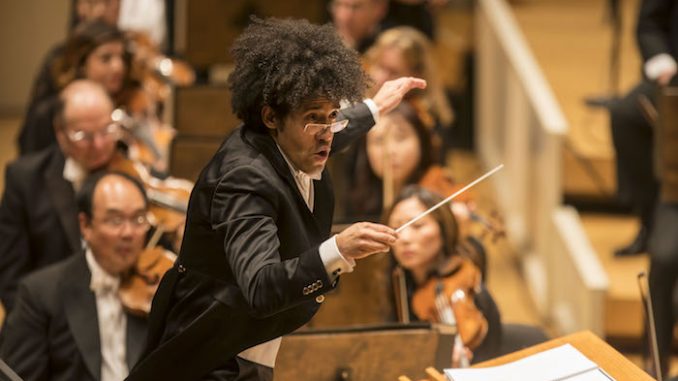 On Thursday, January 18th, 2018, Venezuelan Conductor Rafael Payare made his subscription series debut with the Chicago Symphony Orchestra at Symphony Center, 220 S. Michigan, Chicago. In continued celebration of the 100th birthday of composer Leonard Bernstein, the youthful and energetic Payare conducted a sparkling version of "Symphonic Dances" from West Side Story, as well as Bela Bartók's Concerto for Orchestra. The centerpiece of the concert was Mozart's masterpiece Bassoon Concerto, featuring an impressive performance by CSO Principal Bassoon Keith Buncke, 24. The concert was repeated Saturday, January 20th, 2018.
For this week's program, CSO Assistant Principal Trumpet Mark Ridenour played principal trumpet and CSO Trombone Michael Mulcahy played principal trombone; guest musicians included Rob Parton, trumpet, and David Binder, trombone.
THE PROGRAM:
– Leonard Bernstein Symphonic Dances from West Side Story, 1957, 1960
After Leonard Bernstein and playwright Arthur Laurents began a collaboration with Stephen Sondheim and Jerome Robbins on a story which effectively reimagined Shakespeare's Montagues and Capulets as rival Puerto Rican/white gangs in New York, Bernstein recorded in his diary: "Suddenly it all springs to life. I heard rhythms and pulses and – most of all – I can sort of feel the form." A film version of the musical was adapted around the Symphonic Dances by a number of orchestrators, most prominently Sid Ramin, to whom Bernstein dedicated the work. The result is a fine mélange of sophisticated jazz motifs and Latin dances in a strikingly updated urban "soundscape", combining lyrically romantic love ballads with urgent clashing warlord anthems.
Payare kept the varied threads of the love story-cum-drama separate and filled with vibrancy and nuance as he led the CSO through the dazzling 23 minute score.
The printed version of that score serves as the best description of the musical transplanted to film and includes the following notations:
"Prologue" (Allegro moderato) – The growing rivalry between two teenage street gangs, the Jets and Sharks.
"Somewhere" (Adagio) – In a visionary dance sequence, the two gangs are united in friendship.
"Scherzo" (Vivace leggiero) – In the same dream, they break through the city walls and suddenly find themselves in a world of space, air, and sun.
"Mambo" (Presto) – Reality again; competitive dance between the gangs.
"Cha-cha" (Andantino con grazia) – The star-crossed lovers [Tony and Maria] see each other for the first time and dance together.
"Meeting Scene" (Meno mosso) – Music accompanies their first spoken words.
"Cool" Fugue (Allegretto) – An elaborate dance sequence in which the Jets practice controlling their hostility.
"Rumble" (Molto allegro) – Climactic gang battle during which the two gangleaders are killed.
"Finale" (Adagio) – Love music developing into a procession, which recalls, in tragic reality, the vision of "Somewhere."
Payare is a dramatic and energetic force; he conducted with authority, in perfect accord with the variations of the score. The CSO adroitly snapped their fingers, catcalled/chanted as required, and never lost the direction of the drama; the various enhancing and delicately drawn percussive efforts were particularly charming.
– Wolfgang Amadeus Mozart Bassoon Concerto in B-flat Major, K.191, 1774
The piece- in 3 movements – is said to be an exemplar for the composer's "instinct for the special capabilities and character of a given solo instrument." The first movement allowed for a demonstration of this bassoonist's agility, quick articulation, and broad range. Buncke seemed to carry on a conversation with the CSO in ensemble, rather than effecting a virtuoso dominant role, even during the extended solo of the interior movement.
Before Buncke's performance, Michael Mulcahy, trombone, Charles Vernon, bass trombone, and William Buchman, assistant principal bassoon, ascended to the first balcony directly in front of this reviewer, to get an eyeful and earful of their young colleague.
– Bela Bartók Concerto for Orchestra, 1943
The composition, combining elements of "Western art music" with eastern European folk music, was commissioned by the Koussevitzky Foundation after Bartók fled Hungary due to World War 2. He revised the piece in 1945, adding a longer ending; both versions are used today. The CSO performed this vibrant piece, embracing its non-traditional tonality with assurance and infusing the work with the rhythms of folk melodies.
The Concerto for Orchestra is said to be Bartok's most popular work, possibly due to the way the various sections and solo instruments of the orchestra are set against each other "as if they were protagonists in a concerto." Watching and listening to the CSO, one can observe and hear virtually every principal player/instrument in solo presentation. Under the compelling baton of Payare, the varied virtuosity of the players was integrated into a whole performance of deep expressive content imbued with mystery and excitement.
The introductory 1st movement began slowly, giving way to the 2nd containing five thematically distinct sections with a different pair of instruments playing together in each section. It's a complicated and sophisticated segment, blending harmonically into the third, another slow movement. Both the first and third are comprised of three themes that can be characterized as "night music". In the 4th movement, a luxurious flowing melody with changing tempos emerges, enlivened by woodwind and trombone glissandi and very quick timpani. Finally, the 5th movement, consisting of a whirling and rapid main theme set against vivid folk melodies brought this exciting concerto to it's conclusion.
For information and tickets to all the fine programs of The Chicago Symphony Orchestra, go to the cso website
All photos by Todd Rosenberg