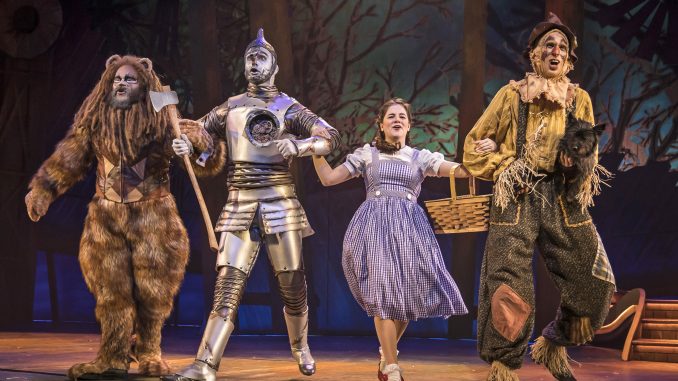 Since the film became a staple on American television generations have grown up with Judy Garland's Dorothy and all of her friends in The Wizard of Oz. We know the Harold Arlen and E.Y. Harburg songs by heart. Most of us are off book for most of the dialogue. There are fan conventions around the world, museums, there's even been a theme park dedicated to the movie version of the story we all know and love.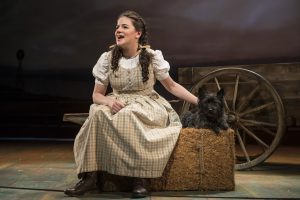 So, when a theatre decides to stage it, the question is, are they going to slavishly try to re-create the movie's magic, or are they going to show us something new?  The Paramount production does a little bit of both, with Elizabeth Stenholt as Dorothy not only resembling Judy Garland but also wearing her exact costume down to ruby slippers. She deviates slightly in her performance because she has more to do. And she does it all exceptionally well, with a lovely voice, lively dancing, and adorable spunk. She's a perfect Dorothy.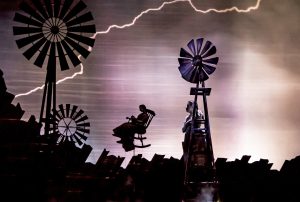 This Wizard of Oz gives us all of the scenes of the original screenplay, even those left on the cutting room floor, much to the audience's delight.  There are some great lines and fun scenes that didn't make the cut, and they're all here to enjoy, including the famously-excised song, The Jitterbug, which gets a terrific production number. All of the lead-ins to all of the famous songs are also included, parts you only see on sheet music ordinarily, and they all add to this production.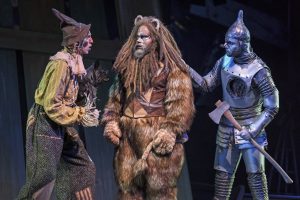 As usual, Paramount has hired top-notch talent, with Kyle Adams, last year's Buddy the Elf, as Scarecrow, Paul-Jordan Jansen last year's Sweeney Todd as the Cowardly Lion, and Carl Draper as Tinman to round out the wonderful main quartet. They are as strong as Dorothy and ably bring everyone along on the adventure, while each putting his own spin on the famous parts.  Adams looks almost boneless as Scarecrow.  He's playing Scarecrow, not Ray Bolger as Scarecrow, too, and is as charming as he was last year as Buddy.   Draper plays the sweetest and most lovestruck Tinman ever, and his tap dance routine, complete with foley tapping, is perfection.  Jansen is as cowardly as one would wish, but he's also not Bert Lahr's lion and has his own flair and a superb voice that makes King of the Forest really roar.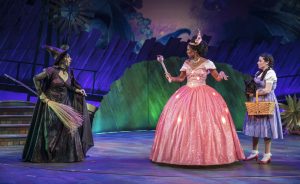 Caron Buinis is also not Margaret Hamilton's Wicked Witch of the West, she's a lot funnier and gets some fabulous "I'm surrounded by idiots" moments with the Winkies, who actually are named in this production.  She also has a fabulous and less old-fashioned costume.  You can see how the existence of Wicked and people's increasing knowledge of Oz beyond the original film has impacted this production here especially.
Harriet Nzinga-Plumpp is wonderful doubling Auntie Em and Glinda, and her Glinda is far less daffy than Billie Burke.  Steve O'Connell also doubles as Oz's fantastic doorman and Uncle Henry.  And Gene Weygandt as Professor Marvel/The Wizard of Oz, whose performance is the closest to the original film of everyone's, though it's also excellent. And Nessa is the most amazing Toto.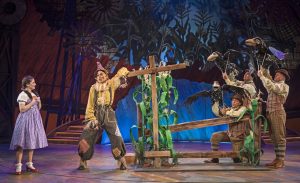 You come into the theatre thinking you know exactly what to expect, and then you find you don't. It starts out reassuring enough, with the brown-toned Kansas and Dorothy's brown gingham dress standing in for the Black and white section of the film. Stark and skeletal windmills dot the landscape of the farm and countryside, they are used again and again throughout this brilliantly designed production, morphing into flowers, gears and more in the course of the story.  The tornado sequence is brilliant, and here you get your first glimpse of the puppetry that is used sparingly and cleverly throughout for some of the special effect sequences.  The mocking crows in the Scarecrow's field and the flying monkeys are standouts here.  Everyone has always feared the monkeys because they look so wrong, and they still do, but differently.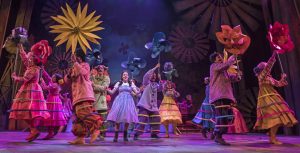 When you've landed in Munkinland, everything is technicolor and spectacular, from the whimsical costumes to the towering flowers projected on the backdrop. The cast hits every beat and a few more you don't expect as they wonderfully perform song after famous song. But all, along you see the bleed-through of the original Kansas set. Unlike L. Frank Baum's book, where Oz was a real place that she actually went to this, like in the movie version, is all Dorothy's dream, and it's fun to pick out all of the elements from "home".
From Glinda's bubble, to delightful Munchkins, to dancing poppies, to talking trees, everything you expect appears when and where they should, but they get extra fun things to do and more to sing. And once our heroes arrive at the Emerald City, you really see a change for the magical. Because the Emerald City, inspired by the time-period of Baum's novel, published in 1900, has gone full steampunk.  The Windmills here become gears and though everything remains green, the fashions and the eyeglasses (which were necessary in the original novel) have been reinstated to great effect.   Oz looks retro-modern and prosperous.
The Witch's Winkie servants have undergone a similar steampunk makeover with monocle helmets and long sleek coats, and it all really works.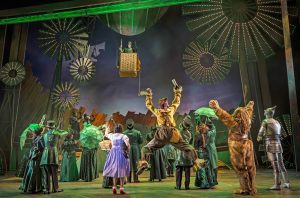 The many cuts to the second act of the story, gone forever from the film, have been reinstated, including the Jitterbug song, which was released on the soundtrack album but cut from the movie. (An auxiliary camera film has been found of it, but the full production number was destroyed, you can see what remains of it here.)
That means there's real, new material included in the production, as well as new interpretations and characterizations.  It all adds up to a superbly magical time at the theatre.
The design crew of Kevin Depinet and Chris Rhoton for Scenic Design, Theresa Ham for Costume Design, Greg Hofmann for Lighting Design, Kevan Loney for Projections Jesse Mooney-Bullock for Puppetry and Adam Rosenthal for Sound Design have as much to be proud of as anyone in the cast. They have built a wondrous and magical Oz from the ground up and I hope the Jeff Judges take note.
All in all, it is a first-rate production and fun for the whole family.  It's not to be missed. It runs from now through January 6, 2019.
Tickets are available at the Paramount Box Office.
Photography by Liz Lauren.