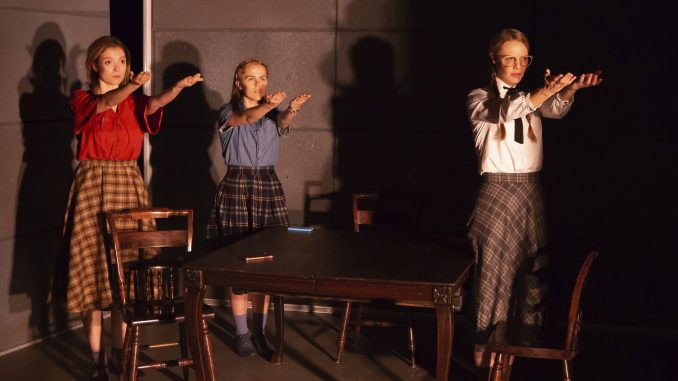 This production may last only ninety minutes in a bleak setting with but three characters on stage at any one time, but when the footlights fade to black, one realizes the story has packed a wallop. Three times a day these girls have the honor, as they are convinced it is, of dying for their country. While they wait to discover whether or not they have been poisoned, they must also learn how to survive their unending ordeal. Survival takes on many guises. For the Tasters it includes building a strong female bond through gossip, teasing, laughter, singing, and wild dancing on the precipice of death.
'Hitler's Tasters,' produced by Orchard Street Productions, runs at the North Shore Center for the Performing Arts in Skokie July 5-14. After it leaves Skokie, the production will have a short run in New York before participating in the Edinburgh Fringe Festival in August. Playwright Michelle Kholos Brooks announced at the Talkback on opening night that her play has been chosen to be among the top ten out of 4,000 entries.
As the daily repetition of mortal fear and relief wears upon the girls, they wonder what death by poison would feel like, what loving Frank Sinatra might mean, whether the Fϋhrer will ever walk into their room. They play games of truth without the dare only to become afraid their answers can be overheard and they will be turned in. But they can't even be sure anyone else is listening to them. Suspicion makes them wary and threatens to erode their trust. The audience is by turns amused and horrified by their ignorance of the situation. Then one girl doesn't show up.
(Anna) Kaitlin Paige Longoria, (Hilda) MaryKathryn Kopp, (Lisel) Hallie Griffen, and (Margot) Hanna Mae Sturges portray characters rich enough to haunt the audience long after the show is over. When discussing what movie star they would each like to be and Hilda answers, 'Joan Crawford,' we laugh because her answer is apropos to the behavior we've observed as well as her own rising self-awareness. Helen Rose Miller is the production's understudy.
The play is based on historical fact. In 2012 a German woman named Margot Wölk celebrated her 95th birthday by revealing to a German newspaper that she had been selected to be one of Hitler's Tasters. Revealing he was a vegetarian, she spent more than two years eating bland rice, pasta, peas, and cauliflower. The play's namesake Margot arrives midpoint in the show believing she has been chosen for a special secretarial job. 'Where are the typewriters?' she asks, looking around, anxious to work hard. Our hearts ache with poignancy. When presented with her first meal, she innocently asks 'Where's the meat?' and we laugh, fidgeting in our seats.
The playwright has intentionally written an anachronistic play, allowing the girls to use cell phones and dance to current music. They are simply girls, after all, and seeing them through the lens of contemporary culture makes their plight feel more urgent. Michelle Kholos Brooks explained her greatest research tool for writing the play was having been a young girl herself. Her judicious balance of adolescent wit and humor in the face of social compliance and unrelenting horror makes the play's journey bearable.
The intentionally all-woman creative team did an amazing job. Director Sarah Norris kept the pace so urgent that ninety minutes flew past. Ashlee Wasmund created choreography both stylized and stunning. Ashleigh Poteat designed costumes that bridged the decades between then and now. Lighting design by Christina Tang and sound design by Carsen Joenk were fresh, simple and evocative.
CAUTION
This tale may cause a rash
of thoughts about ignorance and complacency.
Its side effects may include uncomfortable connections.
Without a doubt, its long-term effects
include opened eyes.
For tickets contact NorthShoreCenter or visit the Box Office at the North Shore Center for the Performing Arts in Skokie located at 9501 Skokie Boulevard, Skokie IL 60077.
Rehearsal photographs by Hunter Canning.